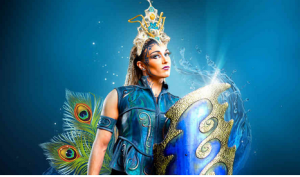 Cirque du Soleil's Amaluna will be at the Grand Chapiteau at Atlantic Station from October 3-November 30, 2014.
I'll post discount tickets & coupon codes for Amaluna in Atlanta as I find them, as it's on my short-list of must-see shows for the fall. I've seen several Cirque du Soleil productions, and the performances never cease to amaze me–the gorgeous costuming and choreography make each show feel like a work of art, and I remain in awe of the complex circus arts the performers manage pull off night after night. Amaluna gets bonus points, as it's inspired by Shakespeare's "The Tempest."
Right now, most of what I'm seeing are ticket & concession combo deals and a few small price breaks. I'm hoping more deals will be released, but until then, here are a few ways to save:
Bonus: Your Cirque du Soleil ticket stub is good for extra savings at restaurants & shops in Atlantic Station. Check out the list of deals before you head out to treat yourself to a little something on the cheap while you're out.
–Jennifer Maciejewski