[exp] [/exp]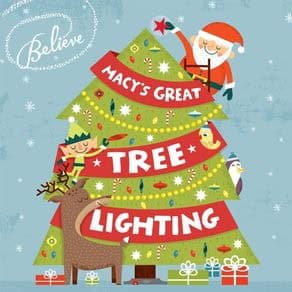 FYI, fans of Macy's Great Tree Lighting: Here's an important date reminder for you. Just like in 2015, the Thanksgiving evening tradition will remain on the Sunday BEFORE Thanksgiving for 2016.
For a free & festive way to get into the holiday spirit, swing by Lenox Square for the 2016 Macy's Great Tree Lighting. Since you'll be joining about 100,000 of your closest friends to watch the lighting (assuming folks learn about the date change, that is…), skip the traffic & take MARTA to Lenox Square.
The evening's entertainment begins at 6:00 p.m. on Sunday, November 20. This year's event features performances by Michelle Williams, Aloe Blacc, and Craig Campbell. In keeping with tradition, the festivities end with a bang with a spectacular fireworks finale set to holiday music.
FYI–If you were planning to let the kids take a ride on Priscella the Pink Pig while you're there, you're out of luck. The ride is closed on November 20, Thanksgiving Day, & Christmas Day. Also, be prepared to pay full price, as I've yet to find a coupon for 2016.
Not in the mood to fight traffic or deal with crowds? WSB-TV will live broadcasting the festivities at Lenox Square starting at 7:00 p.m.
Lenox Square Mall is located at 3393 Peachtree Road NE, Atlanta.
–Jennifer Maciejewksi