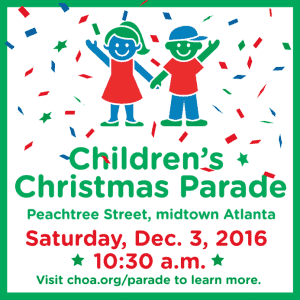 I'm hoping that I can rework my schedule so that I can make it to this one; my girls love parades:
On Saturday, December 3, the 2016 Children's Christmas Parade will take place in Midtown. The parade steps off at 10:30 a.m. at Peachtree St. and 16th St. and ends at Peachtree St. and 5th St.
It should be a fun morning–there will be marching bands, dance groups, giant helium balloons, floats, & Santa Claus (of course).
If you're heading downtown for the parade, consider taking MARTA, as you'll be joining hundreds of thousands of your closest friends. The Midtown and Arts Center Stations are located along the parade route.
Want to skip out on the crowds & traffic? You can watch the parade live on WSB-TV Channel 2.
–Jennifer Maciejewski