FREE document shredding events in the metro Atlanta area
Shredding your documents is one way to protect yourself from identity theft and other forms of fraud. You can shred pre-approved credit card offers, tax records, employment records, old bills, out-of-date account statements, personal letters, and any document that include confidential information you'd rather not fall in the wrong hands.
Several organizations regularly hold FREE paper shredding events in the metro area. The events often happen in April and November, but can take place at any time. Earth Day (April 22nd) is often a popular time for shredding events.
This is a permanent page — we will regularly update it with shredding events as we learn of them.
PLEASE do not email us to ask where you can find a shredding event near you! ALL the info we have is right here on this page.
Read on for a little bit of information about buying your own shredder, and then a list of upcoming shredding events.
---
You may also be interested in:
---
Buying your own shredder
Thinking of buying your own shredder? There are several kinds of paper shredders, and it's important to know the differences between them, so that you can make the best choice for your privacy and security.
Strip-cut shredder
These cut papers into long strips. A standard size paper is typically cut into about 39 strips. They're fine for shredding junk mail, but are not great for confidential materials, because the strips might still contain readable information. Also known as ribbon-cut, spaghetti-cut, or straight-cut shredders.
Cross-cut shredder
These cut paper diagonally from both directions. A standard size paper is typically cut into 400 pieces, offering more security than a strip-cut shredder. Cross-cut shredders are the most popular kind of shredders. Also known as a confetti-cut shredder.
Micro-cut shredder
These are the most secure, but are generally slower and more expensive than cross-cut or strip-cut shredders. They cut a standard size paper into 2,000 particles, making it impossible to read any data from the document.
FREE paper shredding in Atlanta metro area
Please click through the links for more information on each event. You'll want to make sure you meet any residency requirements, and you'll need to know which items are accepted and what the limits are.
Events are in chronological order, so you may have to scroll past some that have already happened.
Saturday, September 16th
8 a.m. to noon
Dekalb County Sanitation Division Central Transfer Station
3720 Leroy Scott Dr.
Decatur, GA 30032
FREE but open only to Dekalb residents.
Bring proof of residency.
Limit: 10 standard size boxes of paper
More info
Through April 29th, 2023

Office Max and Office Depot stores are offering free shredding for up to 5 lbs of documents, in-store only, with a coupon. This is a one-time use per household or business.
Get the coupon here — it's at the very bottom of the page — and be sure to read the fine print.
PLEASE understand the terms and conditions before you head to the store!
Saturday, April 29, 2023
11 a.m. to 2 p.m.
LifeTime Asset Management (Suwanee)
Free and open to the public, with a maximum of 4 boxes of paper. Please consider making a donation.
3457 Lawrenceville-Suwanee Rd.
More info here
Saturday, April 29, 2023
9 a.m. to noon
St. Andrew's in the Pines Episcopal Church (Peachtree City)
Community Shred Day is open to the public. Limit of five boxes per family. Please consider donating one of the items listed, for families in need.
316 N. Peachtree Parkway
More info here
Sunday, May 7, 2023
10 a.m. to 1 p.m.
Kingsley Racquet & Swim Club (Dunwoody)
Rick Baldwin Homes is sponsoring this FREE shredding event in Dunwoody.
More info here
Friday, June 9, 2023
11 a.m. to 1 p.m.
1514 Rock Quarry Rd.
Stockbridge, GA 30281
Samaritans Together of Henry County is hosting this event. You're limited to 3 boxes or bags per vehicle. Boxes should be copy-paper size or smaller. Bags should be kitchen trash can size or smaller.
More info here
Saturday, September 16, 2023
25 LaGrange St, Newnan
8 a.m.
More info here
Shredding events on Earth Day 2023
Earth Day is observed on April 22nd each year.
Saturday, April 22, 2023
11 a.m. to 1 p.m.
The Avenue Peachtree City
Celebrate Earth Day with free document shredding and electronics recycling. Enter a giveaway to win a free Nest thermostat.
More info here
Saturday, April 22, 2023
The Avenue West Cobb
9 a.m to noon
Secured document shredding, along with dumpsters for general trash, and electronics recycling.
Open to the public.
More info
Saturday, April 22, 2023
Keller Williams Real Estate (Dunwoody)
10:30 a.m.
Secure documenting shredding at 115 Perimeter Center Pl, Suite 100, Atlanta, GA 30346
More info
Saturday, April 22, 2023
Peachtree Corners City Hall
8:30 a.m. to noon, or until trucks are full
PEACHTREE CORNERS RESIDENTS ONLY
A free electronics recycling and paper shredding event will take place at City Hall, located at 310 Technology Parkway. Document shredding is limited to 5 medium size boxes per household.
More info
Saturday, April 22, 2023
Sandy Springs Christian Church (parking lot)
9 a.m. to 11 a.m. (or until trucks are full)
Limit of four boxes of paper per car. Please remove all paper clips and other metal. Electronics recycling also available — some free, but monitors and TVs have a fee.
301 Johnson Ferry Rd.
Atlanta, GA 30328
More info here
Saturday, April 22, 2023
11 a.m. to 1 p.m.
GW Northcutt Elementary School
Limit of 3 boxes of paper per car. No need to remove paper clips or staples.
5451 W. Fayetteville Rd.
Atlanta, GA 30349
More info here
Saturday, April 22, 2023
CDC Federal Credit Union (Northlake area)
9 a.m. to noon
Open to the community. Limit two boxes of paper per person. No staples, plastic, or paper clips.
4816 Briarcliff Rd.
More info here
Saturday, April 22, 2023
Coolray Field
9 a.m. to noon
GWINNETT COUNTY RESIDENTS ONLY
Paper shredding, plus you will have the opportunity to drop off items that are usually more difficult to recycle, such as paint, electronics, and tires. Coolray field is located at 2500 Buford Dr, Lawrenceville, GA 30043.
More info
Saturday, April 22, 2023
Summit Family YMCA (Newnan)
10 a.m. to 2 p.m. or until trucks are full
Earth Day Shred Fest is a free drive-thru shredding event. Up to 3 bags of paper per vehicle.
1765 Hwy 34 East
Newnan, GA 30265
More info here
---
Past offers — we are updating these soon, so please check back!
ONGOING OFFER in 2022
Multiple locations
The UPS Store is offering FREE shredding for up to 5 lbs of paper, through Dec. 31, 2022.
Just visit this page to find a participating location near you, and print the coupon to take with you. We recommend calling ahead of time, as some locations are asking you to make a shredding appointment.
Find a participating store, print coupon, or get more info
The fine print:
You can only redeem this offer once.
Restrictions may apply.
Note that store hours vary by location. Participation may also vary, as stores are independently owned and operated.
On average you can expect them to be open till 6 or 7 p.m. on week nights, and 3 to 5 p.m. on weekends.
Saturday, Oct. 8th, 2022
9 a.m. to 1 p.m.
1400 Parker Rd, Conyers
Rockdale County residents only — bring proof of residency and up to 4 boxes of paper.
More info here
Saturday, Sept. 10, 2022
10 a.m. to noon
Lithia Springs Public Library
Each vehicle can bring up to three (3) copy paper size boxes or three (3) kitchen trash bags. There is no need to remove binders, binder clips, paper clips, staples, rubber bands, or CDs/DVDs prior to shredding.
7100 Turner Dr.
Lithia Springs, GA 30122
More info here
Saturday, Sept. 10, 2022
9 a.m. to noon
McDonough Presbyterian Church — parking lot
Personal documents only — limit of (5) 30-gallon trash bags per vehicle.
427 McGarity Rd.
McDonough, GA 30252
More info here
Saturday, Oct. 1, 2022
8:30 a.m. to noon, or until the truck is full
ALPHARETTA RESIDENTS ONLY
Individuals and small businesses can safely shred confidential papers. This is a drive-thru event; you'll stay in your car.
Limit 5 boxes per car.
Please bring a canned good to donate.
Alpharetta Dept. of Public Works
1790 Hembree Road
There is a recycling event for computers and electronics at the same time and place.
More info on the paper shredding event
Monday, Nov. 14, 2022
9 a.m. to 11 a.m.
Covington, GA
Note that this event is on the Newton County calendar, with absolutely no details. We'll keep checking for updates as the event grows closer.
Saturday, June 11, 2022
8 a.m. to noon
FREE to Dekalb residents –– bring proof of residency.
LIMIT of 10 standard-size boxes of paper.
DeKalb County Sanitation Division
3720 Leroy Scott Drive
Decatur, GA 30032
More info here

April 6th to 23rd, 2022
Participating Office Max & Office Depot locations
Shred up to 5-lbs of paper FREE, with this coupon
Saturday, April 16, 2022
Keller Williams Real Estate
11 a.m. to 1 p.m.
3930 E Jones Bridge Rd
Peachtree Corners, GA 30092
Open to the public
More info

Saturday, April 16, 2022
Ameriprise Financial Services (Sandy Springs)
9 to 11 a.m.
Maximum 5 boxes per car
Location: 5855 Sandy Springs Circle, Sandy Springs, GA 30328
More info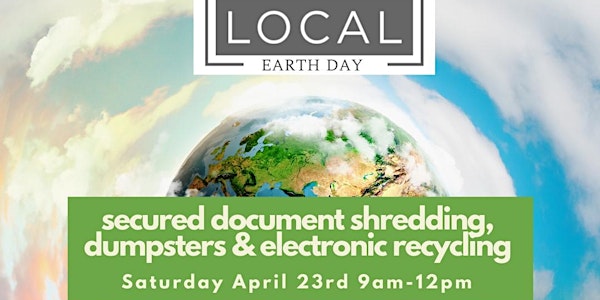 Saturday, April 23, 2022
9 a.m. to noon
Harry Norman Realtors (Perimeter office)
Open to the public
Location: 4848 Ashford Dunwoody Road, Atlanta, GA 30338
More info
Saturday, April 30, 2022
Ocee Public Library (Johns Creek)
10 a.m. to 2 p.m.
Secure document shredding at the Ocee Public Library, 5090 Abbotts Bridge Road, Johns Creek, GA 30005.
More info
Saturday, April 30, 2022
Cobb County Civic Center
10 a.m. to 2 p.m.
COBB COUNTY RESIDENTS ONLY
Paper shredding, medication collection, and hard-to-recycle plastic items at the Civic Center, located at 548 South Marietta Parkway, Marietta, GA 30060.
Please view the list of accepted and not-accepted items
Saturday, May 14, 2022
Odyssey Personal Financial Advisors (Roswell)
9 to 11 a.m.
Maximum 5 boxes per car
Located at: 500 Sun Valley Dr. Suite A6, Roswell, GA 30076
More info
More upcoming events this week:
Wednesday, September 27, 2023
Thursday, September 28, 2023
Friday, September 29, 2023
Saturday, September 30, 2023
Sunday, October 1, 2023
Monday, October 2, 2023
Tuesday, October 3, 2023