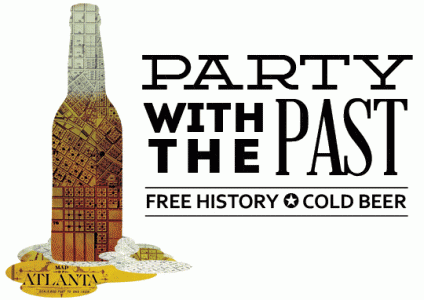 Each month, a different historic spot in Atlanta hosts a night of free history & more. February's
Party with the Past
event is happening at the Sweet Auburn Curb Market.
The festivities get underway at 6:30 p.m. on Thursday, February 9, 2017. At 7:30 p.m., Akila McConnell, Founder & Chief Eating Officer of Atlanta Food Walks, will fill folks in on the history of the Sweet Auburn Curb Market, which as been a central gathering spot since 1924. Plus, there'll be live music by Jules & the Gents, a local jazz swing band, as well as screenings of The Sweet Auburn Curb Market documentary.
It's free to attend Party with the Past, but you'll need to RSVP to attend. If you're planning to go, you should act fast to save your spot; previous Party with the Past events have booked up in advance.
The Sweet Auburn Curb Market is located at 209 Edgewood Avenue Southeast, Atlanta. Parking will be available in the Curb Market lot for $5. That said, it's on the streetcar route, so it's a good excuse to check it out.
–Jennifer Maciejewski