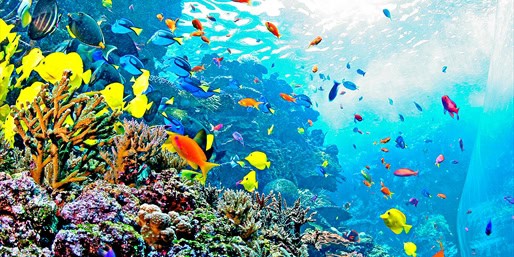 If you're looking for discount tickets to the Georgia Aquarium, you're in luck. You've got a few ways to get in free or on the cheap, no coupon code required.
The deals:
And don't miss out on these events:
Unfortunately, the Sips Under the Sea Glow in the Dark party on Friday, August 4, 2017, is sold out. But now's the time to mark your calendar for another Sips Under the Sea event in 2017: Pajama Jam on September 22 & Something Wicked this Way Comes on October 27. General admission tickets are $19.95+tax for members & $28.95+tax for nonmembers, and VIP admission is $24.95+tax for members & $48.95+tax for nonmembers. Sips Under the Sea is a 21+ event. Doors open at 6:00 p.m. for VIP admission & 7:00 p.m. for general admission. You must purchase tickets in advance to attend; tickets are not available at the door.
Wednesday, August 30, 2017, is International Whale Shark Day at the Georgia Aquarium. From 10:30 a.m.-2:30 p.m., there'll be whale shark themed events & activities in the atrium & more.
Saturday, September 2, 2017, is Dragon Con Night at the Georgia Aquarium. From 7:00 p.m.-11:00 p.m., you can don your Dragon Con costumes (minus the weapons) & explore the Georgia Aquarium. Tickets to Dragon Con Night are $30 each.
The Georgia Aquarium is located at 225 Baker St. NW, Atlanta.
–Jennifer Maciejewski