Attention, Zoo Atlanta fans: You have a few ways to check out the pandas & my favorite, the red panda, for free or on the cheap. For a limited time, you can snag discount tickets, no coupon code required.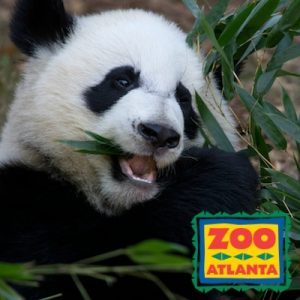 The deals:
While they last, $16.99 buys admission for one ($30 for two or $55 for four) to Zoo Atlanta thanks to a deal on Groupon.
Saturday & Sunday, August 18 & 19, 2018, are City of Atlanta and Fulton County Family Days at Zoo Atlanta. If you show either proof of residence in the city of Atlanta or Fulton County or a City of Atlanta or Fulton County employee ID card, you'll receive free admission for two adults and up to four children.
If you have a library card, you can check out a family pass at Georgia's public libraries (they're available at participating branches in all 159 counties) & get free admission to Zoo Atlanta for a family of four. There's one pass per location. The pass, which is valid Monday-Friday only, may be checked out once per year, per card, per household, and it is valid for up to four guests. Essentially, you check out the Zoo Atlanta Family Pass DVD at the front desk of your local library, and when you return the DVD to your library, you will receive a receipt, which is required for Zoo admission. The pass is valid for 28 days from the date of the receipt showing the return of the DVD. FYI–Per the comments on previous Zoo Atlanta posts, the pass can be difficult to get, as some library locations won't let you reserve the DVD in advance. Still, it's worth a shot.
If you're planning to visit multiple attractions in Atlanta, take advantage of the Atlanta CityPASS to save about 40% on admission to five Atlanta-area attractions. The Atlanta CityPASS covers admission to The Georgia Aquarium, the World of Coca-Cola, the Inside CNN Studio Tour, Zoo Atlanta OR the Center for Civil & Human Rights, and Fernbank Museum of Natural History OR the College Football Hall of Fame. It's valid for nine days, and if you plan it right, you'll have two full weekends + the weekdays in between to get to all of the attractions.
If you order in advance online, you'll save on general admission tickets: They're $22.99+tax & fees for ages 12+, $16.99+tax & fees for ages 3-11, and $18.99+tax & fees for seniors (age 65+) with ID. At the gate, general admission prices go up to $25.99+tax for ages 12+ and $17.99+tax for ages 3-11. College students and seniors (age 65+) with ID will receive a discounted rate of $21.99+tax at the gate. All active-duty, reserves, and retired members of the Armed Forces with ID will receive free admission at the gate; regular admission rates apply to family members and other guests.
Zoo Atlanta is located at 800 Cherokee Ave. SE, Atlanta.
–Jennifer Maciejewski