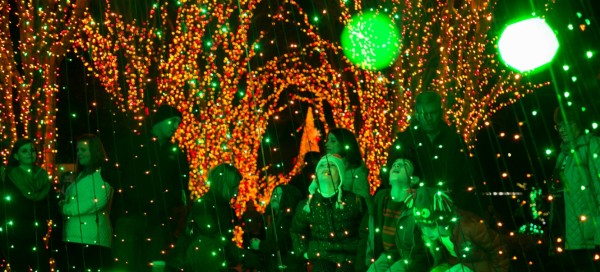 I've been to Garden Lights, Holiday Nights at the Atlanta Botanical Garden several times, and it's a fixture on my "must do this holiday season" to-do list.
Garden Lights, Holiday Nights is gorgeous, and it's fun to see the Atlanta Botanical Garden in a new way after dark. The downside is that even Garden members are required to purchase a ticket. The upside is that you can get discount tickets, no coupon code required.
On Non-Peak Nights (Mondays-Wednesdays through December 14), tickets to Garden Lights, Holiday Nights are regularly $23 for adults & $17 for kids ages 3-12. On Peak Nights (Thursdays-Sundays plus nightly from December 15-January 7), admission is $26 for adults & $20 for children when you buy in advance; tickets on Peak Nights are $5 more at the door. Members save $5 on both Peak Night and Non-Peak Night tickets.
Want a bit more with your ticket? For $10 more per person, you can upgrade to a Premium ticket, which includes 3-D glasses and a drink ticket.
During Member Premiere Week, November 12-17, 2016, tickets are $15 for adults & $10 for children. We'll be taking advantage of this deal for our yearly visit, as it's the best price.
Not a member? On Peak Nights only, you can score adult or child tickets for $20 each if you buy your tickets online & take advantage of the Night Lights deal, which is valid for admission after 9:00 p.m. I took advantage of this deal last year (on a Thursday)–light crowds, one of the cheapest prices, plus gorgeous lights all made for an excellent holiday outing.
Garden Lights, Holiday Nights will take place nightly from November 12, 2016-January 7, 2017.
The Atlanta Botanical Garden is located at 1345 Piedmont Ave. NE in Midtown.
–Jennifer Maciejewski