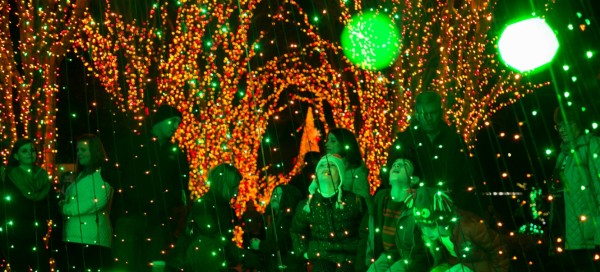 I've been to Garden Lights, Holiday Nights at the Atlanta Botanical Garden several times, and it's a fixture on my "must do this holiday season" to-do list.
Garden Lights, Holiday Nights is gorgeous. With more than one million lights, you'll see the Atlanta Botanical Garden in a new way after dark. The downside is that even Garden members are required to purchase a ticket. The upside is that you can get discount tickets, no coupon code required.
FYI: All nights through January 9 will have peak admission rates. Tickets to Garden Lights, Holiday Nights are regularly $26 for adults & $20 for kids ages 3-12 on Peak Nights; for members, it's $21 & $15, respectively.
Bonus: On Peak Nights only, you can score adult tickets for $15 each if you buy your tickets online & take advantage of the Night Lights deal, which is valid for admission after 9:00 p.m. I took advantage of this deal last month (on a Thursday)–light crowds, the cheapest price, plus gorgeous lights all made for an excellent holiday outing.
Garden Lights, Holiday Nights will take place nightly through January 9, 2016.
The Atlanta Botanical Garden is located at 1345 Piedmont Ave. NE in Midtown.
–Jennifer Maciejewski