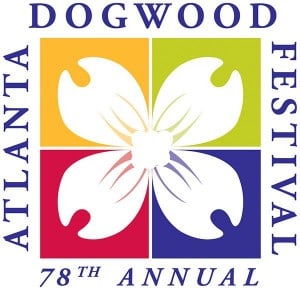 I'll admit my bias: The Atlanta Dogwood Festival remains one of my favorite festivals in the ATL.
The Atlanta Dogwood Festival will take place at Piedmont Park from April 11-13, 2014. There'll be free live entertainment on two stages all weekend long, plus an artist market, disc dog exhibition, kids' activities, Eco Village, & more.
If you're heading out for the music, Here's the main stage lineup:
Friday, April 11
1:30 p.m.: Adam Klein & The Wild Fires
3:00 p.m.: The Georgia Flood
4:30 p.m.: Partial Cinema
5:50 p.m.: Norman Frank and The Ghost Dance
7:00 p.m.: MercyMe
8:00 p.m.: Marian Mereba
Saturday, April 12
11:00 a.m.: 38th Parallel
12:30 p.m.: Reaspec
2:00 p.m.: The Willie Ziavino & C.O.T. Band
3:30 p.m.: Jubee & The Morning After
5:00 p.m.: Wesley Cook
6:30 p.m.: Lindsay Rakers
8:00 p.m.: Secondhand Swagger
9:30 p.m.: Lingo
Sunday, April 13
11:00 a.m.: Community Music Center
1:00 p.m.: Jack Preston & Dojo Collective
2:00 p.m.: Neil Cribbs
3:00 p.m.: All The Locals
4:00 p.m.: Sailing to Denver
New for 2014, the Atlanta Dogwood Festival is having a Backyard Barbecue & Brews event. Per the summary, the "all-inclusive outdoor tasting event will take place in a spacious tented area overlooking the Main Stage & showcase local craft beers, wine, moonshine and barbecue and picnic fare from some of the city's favorite restaurants and chefs. Guests will enjoy picnic-style seating, activities like corn hole and lawn bowling and access to private bathrooms." VIP tickets are $25 per day in advance (2-day $45) & $35 at the door. Platinum VIP tickets are $45 per day in advance (2-day $85) & $55 at the door.
Piedmont Park runs along 10th Street & Piedmont Avenue (parking, shuttle and MARTA information).
–Jennifer Maciejewski