[exp] [/exp]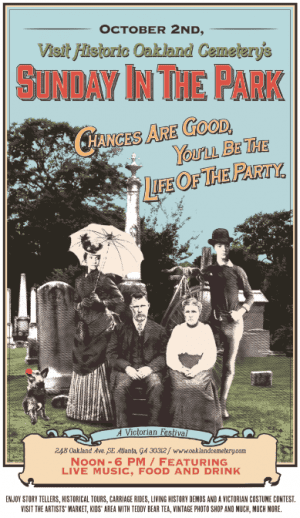 This looks like a fabulous way to spend Sunday afternoon:
From noon-6:00 p.m. on October 2, 2016, Oakland Cemetery will host Sunday in the Park.
Never been? Sunday in the Park is a Victorian street festival. There'll be carriage rides, a plant sale, guided walking tours, and a children's area, complete with Victorian Hat Making and a traditional Teddy Bear Tea. FYI–There'll be a Victorian costume contest (open to both the Steampunk & Victorian versions), so if you've got one in your closet, wear it & compete. And there's a Sunday in the Park photo contest, too.
Plus, there'll be an artists' market, living history demonstrations, live music, storytellers, & more.
Admission is $7 for adults, $3 for kids ages 4-12, & free for kids age 3 & under.
Oakland Cemetery is located in the Grant Park area at 248 Oakland Ave. SE, Atlanta.
–Jennifer Maciejewski