Oakland Cemetery is not just a final resting place for historic figures from Atlanta's past — it's also one of the largest public green spaces in Atlanta. That's why Oakland's gardens and park-like 48 acres are often the setting for spring festivals and other outdoor spring events, many of them free and family-friendly.
This page will maintain a list of free events at Oakland Cemetery in Atlanta (we may also occasionally include events that have a low admission fee).
The cemetery grounds themselves are free to visit and open to the public daily from 9 a.m. to 5:30 p.m.
You can also find a full calendar of events at Oakland Cemetery's website.
Spring Equinox Yoga
Wednesday, March 20th
7 to 8 p.m.
FREE and open to the public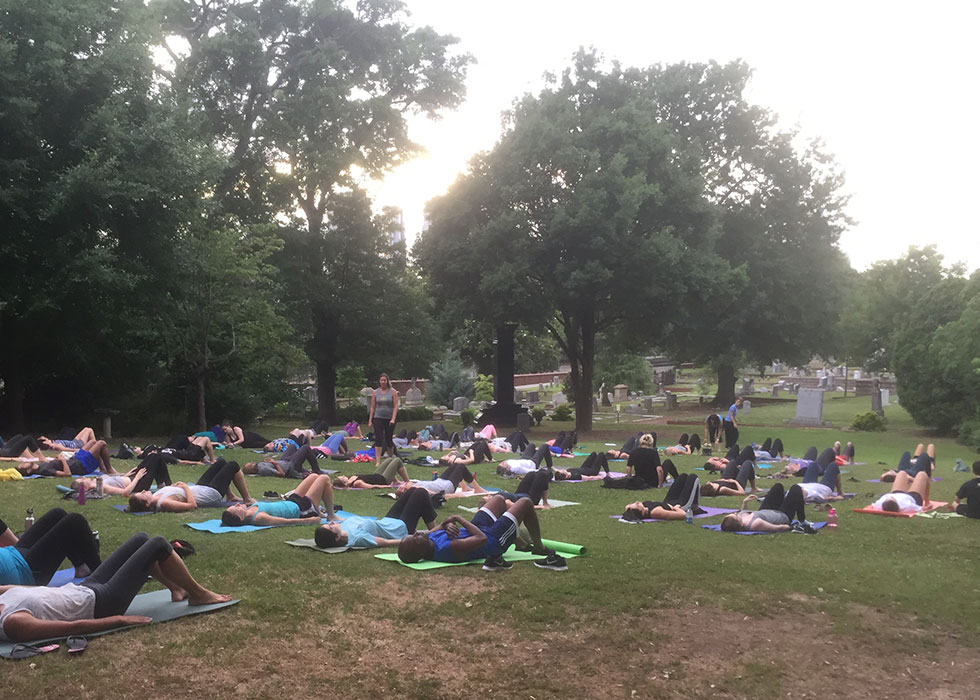 Many people associate the vernal equinox with renewal and rebirth. Come awaken your spirit and get rid of stagnant winter energy with a FREE yoga class designed to celebrate spring.
This gentle yoga class is accessible for people of all ages, abilities, genders, and faiths. It will incorporate physical movements, stretching, breathing, and deep relaxation. The yoga class will be led by Mystic Lotus Yoga and Nirvana Yoga.
Please bring your own mat (or chair) and water bottle. The class will take place on the North Public Grounds of Oakland Cemetery.
While the class is free, you're encouraged to make a $5 donations if you're able to.
Boys of Summer Baseball Tour
Saturday, March 30th
2:30 to 3:30 p.m.
Adults $12
Students/Seniors $6

Celebrate the start of baseball season with a look back at the first baseball game in Atlanta — a showdown between the Gate City Nine and Atlanta Baseball Club that took place on May 12, 1866. This tour recaptures the spirit of that day and examines the lives of some of the players who took part in that historic game.
This hour-long tour starts at 2:30 p.m. at the Oakland Cemetery Visitors Center. After the tour, participants are encouraged to head over to The Republic Social House to watch the Atlanta Braves battle the Philadelphia Phillies. The pub is located at 437 Memorial Drive, and is offering a special deal for tour ticket holders (free appetizer, $3 Bud Light pints, and $8 Bud Light pitchers).
Spots in this tour are limited, so buy your tickets in advance online, through Oakland's website.
Annual Spring Plant Sale
Saturday, April 13th
9 a.m. to 1 p.m.
FREE and open to the public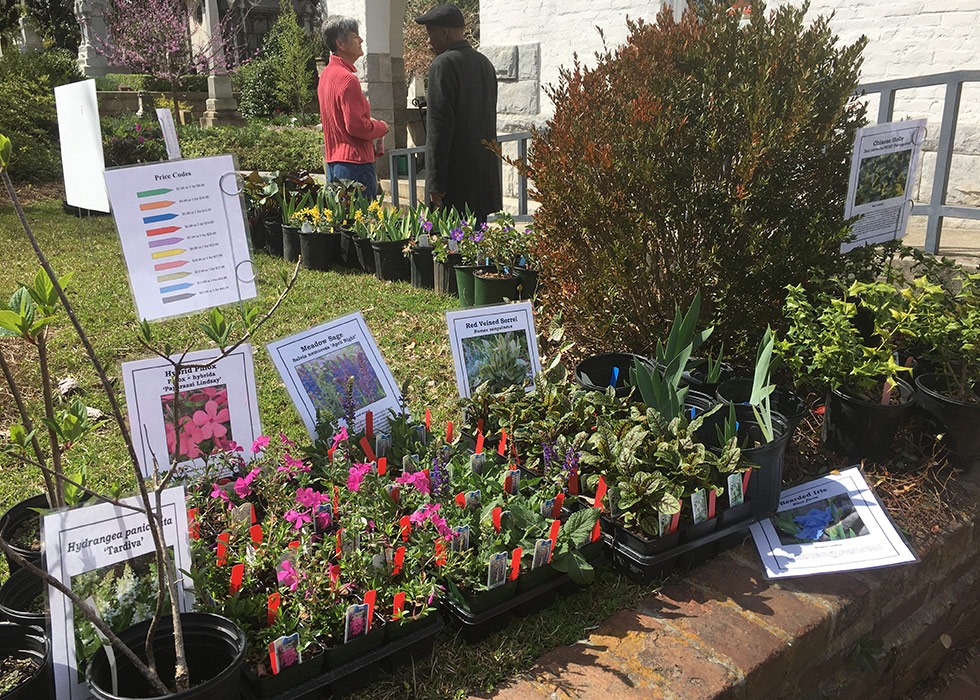 You may have noticed the beautiful old greenhouse on the grounds of Oakland Cemetery. On Saturday, April 13th, it will be filled with seasonal blooms that you can buy and take home to your own garden.
Oakland's annual spring plant sale has a festival-like atmosphere and is a great way to spend time outdoors in this 48-acre green space.
In addition to the plant sale, there will be gardening-related demonstrations and a "green elephant sale," where you can buy vintage and gently used gardening items.
Cash, checks, and credit cards will be accepted. Please bring your own boxes and bags to transport your purchases home!
All the money raised will be used to maintain the gardens at Oakland Cemetery, through the purchase of tools, bulbs, and trees.

Oakland Cemetery is located in Southeast Atlanta, near the Grant Park neighborhood.
When
April 20, 2019 @ 9:00 am-1:00 pm
What
Annual Spring Plant Sale