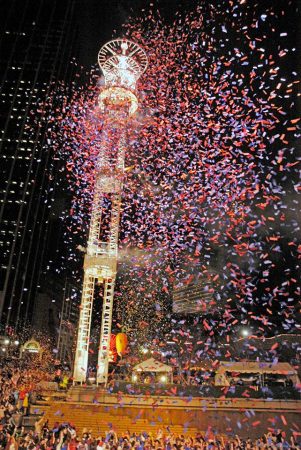 I feel cold just thinking about this event: I can't believe it's almost New Year's Eve. As such, it's time for
Peach Drop 2017
.
Peach Drop 2017 almost wasn't going to happen this year (the city is still in the process of selling the property to a developer) & its future (at least at its current home at Underground Atlanta) is in jeopardy, so if going is something that's been on your ATL To-Do List, don't skip out thinking you can make it next year instead.
In keeping with tradition, the 800-pound peach will begin its descent just before the clock strikes midnight on New Year's Eve. Underground Atlanta opens at 5:00 p.m., the music–featuring Ne-Yo and Collective Soul–starts at 7:00 p.m.
Underground Atlanta is located at 50 Upper Alabama St. SW, Atlanta.
–Jennifer Maciejewski