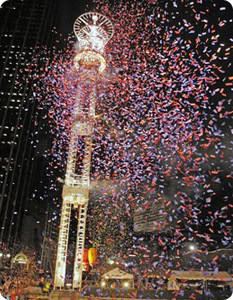 I feel cold just thinking about this event: I can't believe it's almost New Year's Eve. As such, it's time for
Peach Drop 2014
.
There's always plenty to do in Underground Atlanta as part of the day-long Peach Drop festivities.
Family-friendly activities & live entertainment at the Budding Peach Stage will keep the little ones entertained. Here's the schedule:
11:30 a.m.: Alexa Byrd
Noon: Aspen Countryman
12:30 p.m.: Sharon Howard
1:00 p.m.: 10StepsBack
1:30 p.m.: NTAJ
2:00 p.m.: Destiny Underwood
3:00 p.m.: Rachel Wiggins
4:00 p.m.: Katie Belle Akin
5:00 p.m.: Mary Kate Farmer
At 6:00 p.m., the Peach Drop Main Stage entertainment gets underway. Here's the lineup:
6:00 p.m.: Roman GianArthur
7:00 p.m.: Brian Collins
8:00 p.m.: Sol Junky
9:30 p.m.: Sonia Leigh
11:15 p.m.: Janelle Monáe
Or you can head to Kenny's Alley, where there'll be live music from 11:00 a.m.-3:00 a.m.
And of course, there'll be a fireworks display, plus the 800-pound peach will begin its descent just before the clock strikes midnight.
Underground Atlanta is located at 50 Upper Alabama St. SW, Atlanta.
–Jennifer Maciejewski