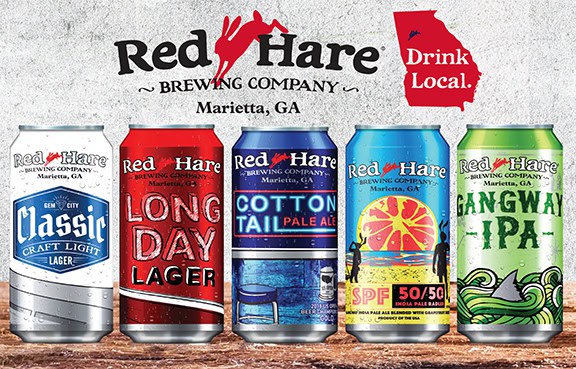 Red Hare Brewing Company is an independent microbrewery in Marietta. This brewery often hosts special events, and many of them are cheap and free. There is no cover charge for live music and no ticketing fee for a brewery tour. We'll list many of Red Hare's events here, so keep scrolling! You can also check the Red Hare "Hoppenings" page for a listing of events.
Red Hare was the first craft brewery in Georgia to offer canned beer, and it has won many industry awards and medals. It also produces two kinds of craft soda (root beer and grapefruit). The public is always invited to drop by during open taproom hours for a cold brew or a tasting flight.
Red Hare is located at 1998 Delk Industrial Boulevard in Marietta.
Taproom hours:

Tues – Fri: 3 to 9 p.m.
Saturday: 12 to 9 p.m.
Sunday: 12:30 to 6 p.m.
FREE brewery tour hours:
Tasting flights are available. You can get four 5-ounce samples for $10
Wed – Fri at 5:30 p.m.
Saturdays at 2:30, 3:30, and 4:30 p.m.
Upcoming Events at Red Hare Brewing
Wild Hare Yoga
Get bendy with beer yoga! Red Hare hosts evening yoga classes once a month, from 6 to 7 p.m. The class usually takes place on the last Wednesday of the month, but March is an exception — this month, yoga is March 13th. (This is why we urge you to double-check event status before heading out!)
Tickets include an hour of yoga, followed by a pint of beer.They are $15 in advance, and $20 at the door. If you buy online through Freshtix, you'll pay a fee of $1.79, but you can also buy advance tickets in person by stopping by Red Hare. You can also buy a package of four classes and four beers for $60 and receive a free t-shirt.
Food Trucks, Live Music, and Other Events
Friday, March 15th
Li'l Bites food truck (also Girl Scout cookie sale!)
3 to 9 p.m.

St. Patrick's weekend (March 15th to 17th)
$12 for 3 beers (wristband deal)

Friday, March 22nd
Angel Fire 7 BBQ food truck
Saturday, March 23rd
Live music by Trevor Startt
3 to 6 p.m.
Saturday, April 6th
Live music by Greg Shaddix
3 to 6 p.m.
Sunday, April 7th
National Beer Day, live music by Katy Sissine
Saturday, April 13th
Spice the Americas food truck
2 to 8 p.m.
Saturday, April 20th
Live music by Handsome and the Humbles
3 p.m.

Saturday, May 18th
Live music by The Wax Throwbacks
3 to 6 p.m.
Saturday, June 15th
Live music by Brewery Road
3 to 6 p.m.
The Ocho: Red Hare's Eight Anniversary Party
Saturday, April 27th
12 to 9 p.m.
FREE admission, or buy a drink package
(Content coming soon)
Other events at Atlanta-area Breweries:
Saturday, March 23, 2019
Sunday, March 24, 2019
Wednesday, March 27, 2019
Thursday, March 28, 2019
Friday, March 29, 2019
Saturday, March 30, 2019
Sunday, March 31, 2019
Wednesday, April 3, 2019
Thursday, April 4, 2019
Friday, April 5, 2019
Saturday, April 6, 2019
Sunday, April 7, 2019
Wednesday, April 10, 2019
Thursday, April 11, 2019
Friday, April 12, 2019