UPDATE: Due to construction in Woodruff Park, the FREE weekly yoga classes will move across the street to Broad Street Boardwalk. You're still expected to use the advance RSVP link, below.
From July 1 through September 30, 2023, yoga will take place at Broad Street Boardwalk, at the corner of Peachtree Street and Luckie Street.
There will be no yoga on Saturday, August 26th, because Doggy Con takes place on the Boardwalk that day.
—————-
Yoga in the Park is back in 2023!
Once again, you can come out to Woodruff Park for 60 minutes of FREE yoga each Saturday morning — from April 15th to September 30th, 2023.
Classes take place on the lawn in the center of the park, from 10 to 11 a.m. on Saturday mornings. (NOTE the time change — it's an hour later this year.)
While yoga classes are free to attend, you must submit your RSVP in advance, thru Eventbrite. All dates are open now for registration.
If you register for a class on Eventbrite and then cannot attend, PLEASE cancel your RSVP to allow space for someone else.
Yoga classes are open to all ages and experience levels. This is a kid-friendly event. Just bring your own mat and water bottle.
Please register online for the class(es) you plan to attend.
According to the Yoga in the Park event page:
These fun, accessible, and meditative practices will leave you feeling peaceful yet invigorated–and part of a great community. Vinyasa flow is yoga that incorporates sun salutations throughout the practice, so we will be passing through infamous downward facing dog, using our arms to chaturanga throughout practice, and matching breath with movement. The flows are good for beginners and advanced practitioners alike, so come one, come all!
The class may be canceled in the event of bad weather. You'll be notified of a cancellation through the contact info you supplied in your RSVP.
More info:
* Facebook event page
* Woodruff Park event page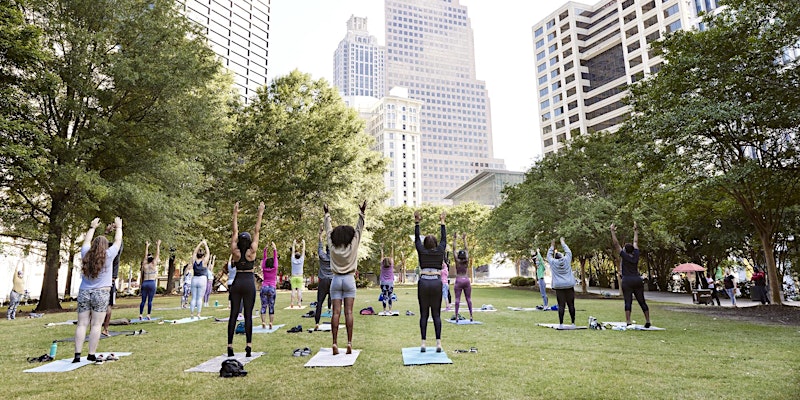 About the venue
Woodruff Park is located at 91 Peachtree Street NW, in the Fairlie-Poplar district. It is bordered by Edgewood Avenue, Peachtree Street, Auburn Avenue, and Park Place.
This six-acre park is a natural gathering space for a diverse cross-section of Atlantans and a key starting point for exploring downtown Atlanta and its surrounding neighborhoods. Surrounding buildings include government offices, commerce, and Georgia State University.
Originally known as Central City Park, Woodruff Park was renovated through a generous donation from Robert W. Woodruff, former president of The Coca-Cola Company. Today, the park offers playgrounds, fountains, and a variety of facilities and services.
The park is patrolled daily from 7 a.m. to 11 p.m., through a partnership between the Atlanta Police Department and GSU Police, making it a very safe venue. The Downtown Clean Team helps with park maintenance.
Each year, Woodruff Park hosts a variety of festivals, events, and performances, including the WoodRUFF Bark Dog Parade and the annual German Bierfest.
Getting there
Woodruff Park is easily accessible via both bus and rail. Two Atlanta Streetcar stops—Park Place and Woodruff Park—are located in the park. The park is also home to a Relay Bike Share hub.
View detailed MARTA bus routes and streetcar options to Woodruff Park.
If you're using MARTA rail, it couldn't be easier. The park is located between Five Points Station and Peachtree Center Station.
Five Points Directions
Take any train to the Five Points MARTA station
Go to street level and follow signs to the Peachtree Street exit
Turn left on Peachtree Street and walk about a block
Peachtree Center Directions
Take a red or gold line train to the Peachtree Center station
Follow the signs to the Ellis Street at the south end of the train platform
Exit the fare gates and follow signs to Peachtree Street East
At street level, turn left on Peachtree Street (toward Residence Inn) to reach the park.
More community fitness classes around Atlanta:
Yoga in the Park
When
Weekly on Saturday @ 10:00 am-11:00 am (April 29, 2023 - September 30, 2023)
Where
Broad Street Boardwalk (downtown Atlanta)
Broad Street Boardwalk (downtown Atlanta)
Reader Interactions