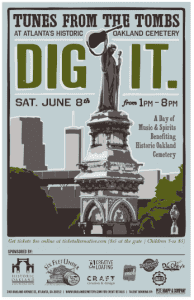 I love this concept–a touch of the macabre + live music = awesome.
On Saturday, June 8, 2013, Tunes from the Tombs returns to Oakland Cemetery. It's not free to attend the music festival, but it's fairly cheap to get in–tickets are $10 in advance or $15 at the gate for adults, and kids' tickets (ages 3-12) are $5 each.
During Tunes from the Tombs, musicians will perform amongst the monuments, mausoleums, & gardens at Oakland Cemetery. This year's lineup includes Blair Crimmins and the Hookers, Old 4th Ward Afro-Klezmer Orchestra, Bird City Revolutionaries, The Bonaventure Quartet (featuring Amy Pike), Caroline and the Ramblers, Roxie Watson, Slim Chance and the Convicts, Rolling Nowhere, Little Country Giants, & Wasted Potential Brass Band, to name a few.
While you're there, you can take a free guided mini-tour of Oakland Cemetery, have you fortune read by Robyn Avalon, indulge with food truck fare, & more.
Oakland Cemetery is located at 248 Oakland Avenue, Atlanta. Some free parking may be available on the streets. If you don't have any luck, it's $5 to park at the Grady Health Systems lot behind the MLK MARTA Station on Grant Street.
–Jennifer Maciejewski