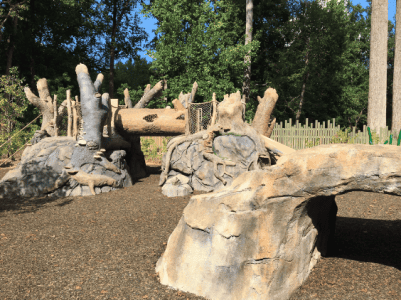 Now's the time to explore Fernbank Museum of Natural History on the cheap: While they last, you can get discount tickets to Fernbank, no coupon code required.
As always, you can check out the dinosaurs, investigate the natural world via hands-on activities and live animals in Fernbank NatureQuest, learn about Georgia's natural history, & more during your visit to Fernbank Museum of Natural History. And it's an excellent time to explore WildWoods, an outdoor experience that includes everything from vantage points high in the trees to ground trails and a wetland. I wish I still had little ones, as they'd love the Nature Stories playground (pictured above) & a Sensory Wall that they're actually allowed to touch, but my older kids & I still have plenty to do in WildWoods, from checking out the ever-changing art exhibitions in the Nature Gallery to walking the trails.
Mark your calendars: The Mammoths and Mastodons exhibition will be on view from June 17-August 17, 2017. Per the summary, "Journey back in time millions of years ago when mammoths and mastodons roamed the earth. Explore how mammoths and mastodons lived with other giant creatures like short-faced bears and saber-toothed cats. Joust with mammoth tusks. Touch the teeth of the colossal mastodon, and feel mammoth fur between your fingertips. Create your own cave art and learn why early humans both hunted and honored these majestic animals. Live among these larger than life creatures for a day, in the most captivating, interactive exhibition since the Ice Age."
And movie fans are in luck: The IMAX theatre has been renovated. Now known as the Giant Screen theatre, it features state-of-the-art 4K digital projection with both 2D and 3D capabilities on a new screen, plus new seats, floors, & sound system.
Admission to the exhibitions is free for members, $18 for adults, $17 for seniors (age 65+), & $16 for children (ages 3-12). Don't have a membership? You can save a bit on admission to Fernbank Museum of Natural History with these deals:
Fernbank Museum of Natural History is located at 767 Clifton Rd. NE, Atlanta.
–Jennifer Maciejewski