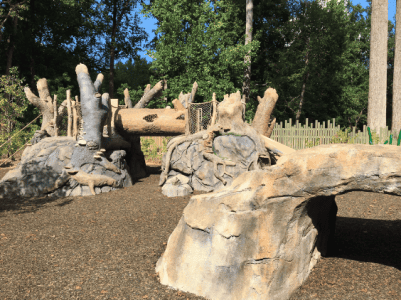 Now's the time to explore Fernbank Museum of Natural History on the cheap: While they last, you can get discount tickets to Fernbank, no coupon code required.
As always, you can check out the dinosaurs, investigate the natural world via hands-on activities and live animals in Fernbank NatureQuest, learn about Georgia's natural history, & more during your visit to Fernbank Museum of Natural History.
Plus The Wild Weather exhibition will be on view from January 28-May 7, 2017. Per the summary, "Fly through the eye of a hurricane, create a mini-tornado and dance up a storm as the weather around you responds to your movements. Severe weather is powerful and unpredictable, and this new exhibit lets you experience it up close. Through experiments, challenges, models, computer interactives and multimedia experiences, learn how scientists are working together to create better weather forecasts in an ever-changing climate."
And Fernbank Museum of Natural History's outdoor expansion, WildWoods, is now open. The new outdoor experience includes everything from vantage points high in the trees to ground trails and a wetland. I wish I still had little ones, as they'd love the Nature Stories playground (pictured above) & the Sensory Wall that they're actually allowed to touch, but my older kids & I still have plenty to do in WildWoods, from checking out the ever-changing art exhibitions in the Nature Gallery to walking the trails. Bonus: WildWoods is on the grounds of the Museum—not in Fernbank Forest—preserving Fernbank Forest as a school in the woods for nature study.
Admission to the exhibitions is free for members, $18 for adults, $17 for seniors (age 65+), & $16 for children (ages 3-12). Don't have a membership? You can save a bit on admission to Fernbank Museum of Natural History with these deals:
FYI–If you were planning to watch a Giant Screen film (formerly referred to as IMAX) while you're there, you'll have to wait a bit. The theater will be closed through February 3, 2017, for an upgrade. Once it reopens, it'll feature state-of-the-art 4K digital projection with both 2D and 3D capabilities on a new screen, plus new seats, floors, & sound system.
Fernbank Museum of Natural History is located at 767 Clifton Rd. NE, Atlanta.
–Jennifer Maciejewski