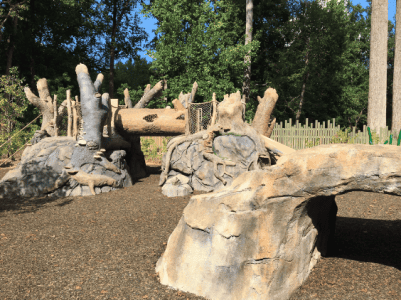 Now's the time to explore Fernbank Museum of Natural History on the cheap: While they last, you can get discount tickets to Fernbank, no coupon code required.
As always, you can check out the dinosaurs, investigate the natural world via hands-on activities and live animals in Fernbank NatureQuest, learn about Georgia's natural history, & more during your visit to Fernbank Museum of Natural History. And it's an excellent time to explore WildWoods, an outdoor experience that includes everything from vantage points high in the trees to ground trails and a wetland. I wish I still had little ones, as they'd love the Nature Stories playground (pictured above) & a Sensory Wall that they're actually allowed to touch, but my older kids & I still have plenty to do in WildWoods, from checking out the ever-changing art exhibitions in the Nature Gallery (Wild Huts and Hollows will be on view through February 11, 2018) to walking the trails.
Plus the Gladiators: Heroes of the Colosseum exhibition will be on view through January 7, 2018. Per the summary, "Building on the larger-than-life legends of gladiators, the exhibit explores the world these men inhabited, from the regiment of training, discipline and constant peril to the fame, wealth and freedom that greeted the very best gladiators. The exhibit unfolds on two paths, revealing two protagonists interwoven by destiny: the gladiators themselves, and the colossal, complex stage where their fate was determined—the Colosseum. The story is told through original artifacts, modern replicas, interactive technology, and immersive environments."
While you're there, check out the Winter Wonderland: Celebrations & Traditions Around the World exhibition, on display through January 7, 2018. Per the summary, the annual event "features trees and other displays decorated by local cultural partners that recognize celebrations including Christmas and Hanukkah, as well as traditions and practices like origami, indigenous art and national symbols."
Movie fans are in luck: The IMAX theatre has been renovated. Now known as the Giant Screen theatre, it features state-of-the-art 4K digital projection with both 2D and 3D capabilities on a new screen, plus new seats, floors, & sound system.
Admission to the exhibitions is free for members, $18 for adults, $17 for seniors (age 65+), & $16 for children (ages 3-12). Don't have a membership? You can save a bit on admission to Fernbank Museum of Natural History with these deals:
Fernbank Museum of Natural History is located at 767 Clifton Rd. NE, Atlanta.
–Jennifer Maciejewski