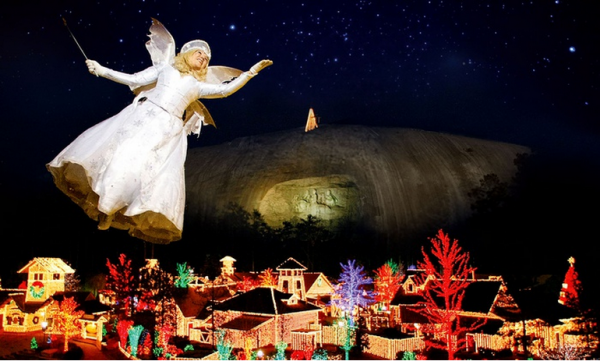 Through through January 4, 2017, you can experience
Stone Mountain Christmas
at Stone Mountain Park.
Stone Mountain Christmas gets you in the holiday spirit with two million+ lights, festive music, visits with Rudolph the Red-Nosed Reindeer and Bumble the Abominable Snow Monster, live performances of A Christmas Carol & The Littlest Christmas Tree, rides on the Singalong Christmas Train, screenings of Rudolph the Red-Nosed Reindeer 4-D, pictures with the Snow Angel & her toy soldiers at Snow Angel Palace, visits with Santa Claus, a Crossroads Christmas Parade with a Snow Angel Snowfall and Fireworks Finale, & more.
And you can play on Snow Mountain through February 26, 2017. Though your Adventure pass or Mountain Membership gets you in to Stone Mountain Christmas, a Snow Mountain pass or Mountain Member PLUS pass is required to play at Snow Mountain. If you're not familiar with Snow Mountain, here are the basics:
The 400-foot tubing hill offers two experiences–Avalanche Alley is for multiple riders while Tube Runners is designed for single riders.
In the Snow Zone, kids can play at Penguin Run (turrets, tunnels, & mid-sized slides), build a snowman, shoot snowballs at targets, or build an igloo.
Kids ages three & under can play in the Little Angels section.
Want to head out on the cheap? Take advantage of one of these deals:
A note about parking: If you walk or ride a bike to Stone Mountain Park, there's no parking fee. Otherwise, it's $15. If you must drive & aren't opting to buy a Mountain Member or Mountain Member PLUS pass, spring for the $40 annual permit if you plan to visit multiple times to take advantage of free special events or the park's free outdoor activities and laser show.
Stone Mountain Park is located at 1000 Robert E. Lee Dr., Stone Mountain. Technically, the main entrance is located at U.S. Highway 78 East, Exit 8, Stone Mountain, but online mapping programs often don't like the address.
–Jennifer Maciejewski