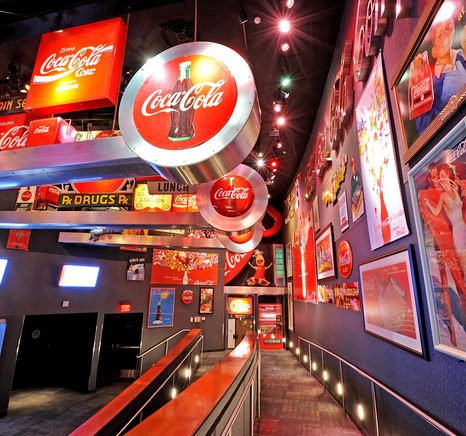 If you've been looking for discounts to the World of Coca-Cola in Atlanta, you're in luck: You've got a few ways to save on tickets to the attraction, no coupon code required.
While you're at the World of Coca-Cola, you can have the Vault of the Secret Formula experience, see a mix of Coca-Cola memorabilia throughout the attraction, taste more than 100 beverages from around the globe, watch the bottling line in action, & more. And the Share a Coke with Atlanta gallery, which features a dozen images captured by local Instagram influencers and highlights their unique take on what it means to #ShareaCokewithATL, will be on view through May 2017.
Plus, you can explore the Pop Culture gallery, which is home to the "My Coke Art" kiosks–these are second only to the tasting room in terms of popularity with the folks in my house. My kids love to use the interactive touchscreens to design their own Coca-Cola bottles. While you're in the gallery, you'll also see more than a dozen original paintings featuring Coca‑Cola by artists such as Haddon Sundblom, the artist behind the Coca‑Cola Santa, and you can check out the Effervescence: Coca-Cola in Pop Art exhibition, featuring works by well-known artists such as Andy Warhol, James Rosenquist, and Elena Zolotnitsky.
The deals:
Admission is regularly $17 for adults, $15 for seniors (age 65+), & $13 for youth (ages 3-12).
The World of Coca-Cola is located at 121 Baker St. NW, Atlanta.
–Jennifer Maciejewski