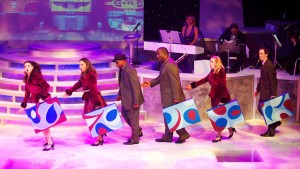 This looks like a fun holiday show:
From November 29-December 22, 2013, you can see Christmas Canteen at the Aurora Theatre in Lawrenceville. Though you're likely familiar with it if you live in the area, here's the quick summary: "Our annual living Christmas card and Gwinnett's longest‑running theatrical holiday tradition, Christmas Canteen returns for our 18th season. This nostalgic musical revue is a Winter Wonderland that just keeps getting better."
Want to see it on the cheap? You have a few ways to save on tickets:
While they last, you can save up to 50% on tickets to most performances of Christmas Canteen. FYI–Discount tickets are starting to sell out for some show times, so don't procrastinate if you want to see it on the cheap.
Tickets are regularly $30-$40 for performances on Wednesday-Saturday at 8:00 p.m. & 2:30 p.m. on Saturday & Sunday. But you can get tickets to Christmas Canteen for $20 each if you attend the Wednesday Discount Matinee performances on December 11 & 18, 2013.
The Aurora Theatre is located at 128 Pike Street, Lawrenceville.
–Jennifer Maciejewski