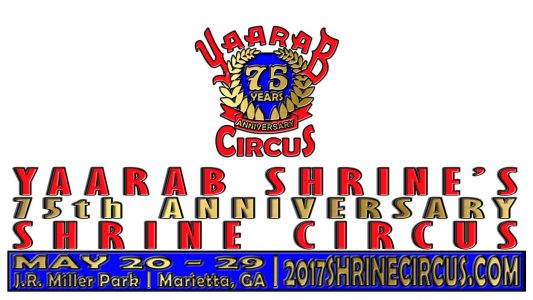 The largest Shrine Circus & Midway Carnival in North America is coming to town.
From May 20-29, 2017, the Yaarab Shrine Circus will be at Jim R. Miller Park in Marietta. With the high-flying trapeze acts, Red Devil Clowns, Sea Lion Splash Show and Kachunga's Alligator Show, Real Steel Riders, Lew-E Comedy Circus Show, & more, it's a fun day for the family. Bonus: On Saturday nights (May 20 & 27), there'll be a fireworks display.
FYI: The Midway opens at 5:00 p.m. on Friday, May 19, but you'll need to wait until May 20 if you'd like to see the circus performances while you're there.
As with anything with Midway, the outing can get expensive quickly, especially if you like to ride rides. Gate admission to the circus + access to the Midway Carnival is $7 for adults and free for children age 10 & under. Take advantage of one of the ticket specials to save:
On Friday, May 19, $10/person buys unlimited rides.
On Monday-Thursday, May 22-25, $18/person buys unlimited rides. From Friday-Monday, May 26-29, unlimited rides passes are $20/person.
Tuesday, May 23, is Car Load Night. With the deal, $50 covers parking, park admission, circus admission, and unlimited rides for that day only for the occupants of any car with up to seven people legally and safely buckled up in their own seat.
Ride tickets are $1.25 each, and rides require 2-5 tickets. You can buy 21 ride tickets for $20, 55 ride tickets for $50, or 120 ride tickets for $100 at the gate.
For a limited time, you can get advance tickets & Midway Carnival ride packages at up to 50% off at participating O'Reilly Auto Parts stores. With the deal $20 covers general admission at the gate & unlimited carnival rides on any one day.
Jim R. Miller Park is located at 2245 Callaway Road, S.W., Marietta. Parking is $5.
–Jennifer Maciejewski