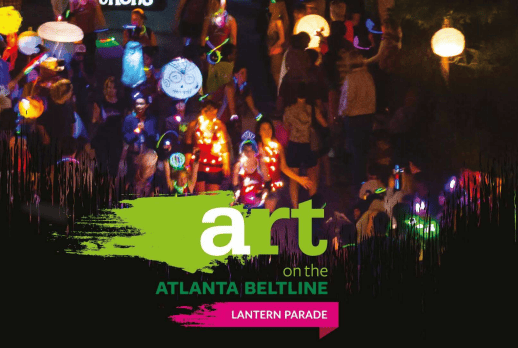 On the first Saturday after Labor Day, it's time for the Atlanta BeltLine Lantern Parade, which marks the official start of Art on the Atlanta BeltLine's 2016 season.
On Saturday, September 10, 2016, grab your homemade lantern & join in the Atlanta BeltLine Lantern Parade.
Line-up begins at 7:15 p.m. at Irwin Street & Krog Street, the parade steps off at 8:15 p.m., and it ends at Piedmont Park. Parade highlights include lots of people displaying awesome lanterns & six marching bands: Wasted Potential Brass Band, The Seed & Feed Marching Abominable, Black Sheep Ensemble, Atlanta Freedom Bands, Common Ground Collective, & Moz Drums. Be sure to stick around for an after party at Park Tavern in Piedmont Park. You will need a lantern to walk in the parade, but if you're not feeling terribly creative, you're welcome to join thousands of your new best friends & grab a viewing spot along the route.
Need a lantern? You can make a globe lantern at the Lantern-Making Workshop happening tonight, September 6, 2016, at New Church UMC Candler Park; it's $25 to attend, all supplies included. Or you can reserve a DIY kit for $20 & pick it up at the Old Fourth Ward Fall Festival on September 9 & 10, 2016. For a bit more, you can reserve a spot to attend an artist-led session and assemble your lantern during the festival.
And mark your calendars: The 2016 season of free Art on the Atlanta BeltLine events will take place at various locations along the BeltLine in October.
–Jennifer Maciejewski