[exp] [/exp]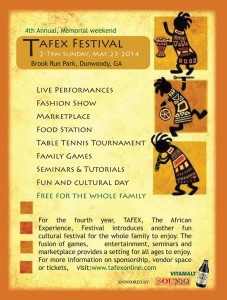 On Sunday, May 25, 2014, TAFEX: The African Experience Festival will take place at Brook Run Park in Dunwoody.
From 2:00 p.m.-7:00 p.m., you can shop the marketplace, listen to live performances, check out the fashion show, watch the table tennis tournament, play games, and more.
Brook Run Park is located at 4770 North Peachtree Road, Dunwoody.
–Jennifer Maciejewski