[exp] [/exp]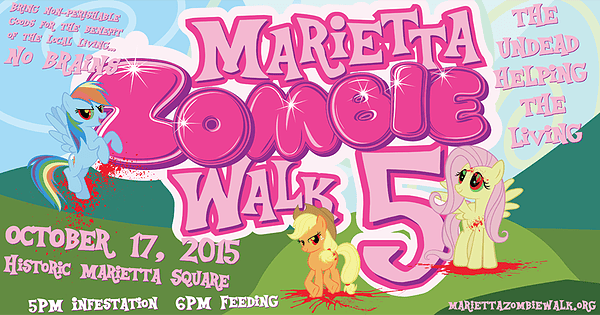 My kids should be old enough for the zombie thing this year; I'm tempted to bring them to the Marietta Zombie Walk just to see how they react:
The Marietta Zombie Walk will take place on Saturday, October 17, 2015. The infestation of Glover Park in Marietta Square will happen at 5:00 p.m. (i.e. zombies in costumes begin gathering at the stage in Glover Park) and the official walk begins at 6:00 p.m. Remember: Zombies don't use smartphones, so leave yours behind if you plan to participate. And be sure to review the rules for the undead, too, so that this remains a fun night of frights.
Oh, and bring a canned good (no brains, please)–the "undead helping the living" doubles as a food drive for MUST Ministries.
Need help with your makeup? If you buy a ticket to make a donation to MUST Ministries in advance, one of the makeup artists working with the Marietta Zombie Walk will zombie-fy you. Be sure to arrive early, as the makeup services are available on a first-come, first-served basis.
–Jennifer Maciejewski