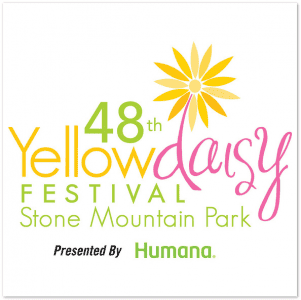 With more than 400 artists and crafters from 33 states and two countries, you're bound to find a one-of-a-kind piece for your home or a gift at the
Yellow Daisy Festival
, which runs from September 8-11, 2016, at Stone Mountain Park. In addition to checking out the vendors, there'll be crafter demonstrations, a Children's Corner, live music, & more.
Shopping the Yellow Daisy Festival is on my Friday to-do list, partly because I want to see Ruby Velle & The Soulphonics perform. If you're heading out for the music, too, here's the main stage lineup:
Thursday, September 8
11:00 a.m.: Jeffery Willis
1:00 p.m.: Julie Gribble
2:30 p.m.: Chris Weinholtz
3:45 p.m.: Double Time
5:00 p.m.: Wesley Cook
Friday, September 9
11:00 a.m.: Alexandrea Lushington
1:00 p.m.: Ansley Stewart
2:45 p.m.: Cody Oliver
4:30 p.m.: Ruby Velle & The Soulphonics
Saturday, September 10
11:00 a.m.: Across the Wide
1:00 p.m.: The Bitteroots
2:45 p.m.: The Outer Vibe
4:15 p.m.: The AJ Ghent Band
5:45 p.m.: Electric Avenue
Sunday, September 11
11:00 a.m.: Craig Gleason
12:30 p.m.: Yellow Daisy Festival Orchestra
2:15 p.m.: The BooHoo Ramblers
3:45 p.m.: Mountain Faith
While admission to the Yellow Daisy Festival is free, parking, unfortunately, is not. For most vehicles, it's $15, but, you can still get in on the cheap:
You can walk or ride a bike to get in free. We've parked in Stone Mountain Village & walked in before, though if we do it again, I think we'd opt to bring the bikes.
If you must drive, spring for the $40 annual permit if you live near Stone Mountain Park & plan to visit at least four times a year, whether to take advantage of free special events or check out the park's outdoor activities and laser show.
If you opt for the Mountain Member PLUS pass, it includes parking + other benefits.
I use these directions to get to the Events Meadow parking lot:
Take Exit 39B off I-285 and go east on HWY 78 to Exit 8 (Stone Mountain Park Main Entrance). After you pay the parking fee, continue straight on Jefferson Davis Drive. At the fork, turn right onto Robert E. Lee Blvd. and then turn right onto North Gate Road. At the stop sign, turn right onto Service Drive. The parking lot is on your left.
–Jennifer Maciejewski