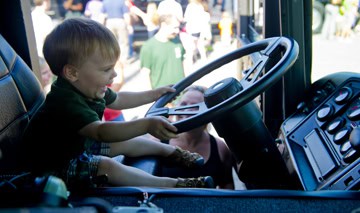 Unfortunately, my daughters have outgrown this event—they're into all things teen & tween now. But for those of you that have little ones that still love trucks, you may want to head out for this weekend's event in Alpharetta:
From 10:00 a.m.-2:00 p.m. on Saturday, August 20, 2016, Touch-A-Truck will take place at Wills Park. During the free event, kids can climb into a fire truck, 18-wheeler, police vehicle, school bus, dump truck, limousines, & more. Plus, there'll be activities like balloon animals, face painting, & more.
Touch-A-Truck will take place near the Wacky World playground at Wills Park, located at 1825 Old Milton Parkway, Alpharetta.
–Jennifer Maciejewski