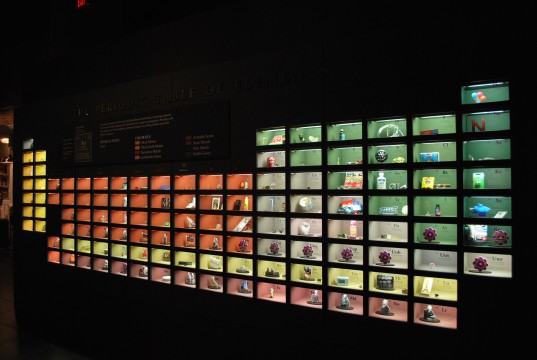 If you haven't made it to Cartersville to check out Tellus Science Museum, you should. It's one of my girls' favorite spaces in metro Atlanta.
The Weinman Mineral Gallery is massive. Though the gems and minerals are impressive on their own, I'm a fan of the periodic table, which features real-life examples of the elements.
Dinosaur fans in your family will appreciate the Fossil Gallery, featuring T-rex, a saber-tooth cat, & more. And your little explorers will enjoy getting their hands dirty in the fossil dig & gem panning areas plus experiencing science in action in My Big Backyard.
And through October 1, 2017, you can check out the From Clay to Copper: Minerals & Artifacts of Etowah exhibition, featuring over 60 archaeological objects on loan from the Smithsonian National Museum of Natural History. The artifacts have been in storage since they were collected nearly a hundred years ago from the Etowah Indian Mounds, a local site that dates back to the Woodland and Mississippian periods.
Want to check it out on the cheap? You've got a few ways to save:
If you show your Bank of America card, you'll get free admission to Tellus Science Museum on the first full weekend of the month. The free admission offer is valid the cardholder only, and the next free admission weekend will take place on January 7 & 8, 2017.
Thanks to a discount on the Family 2 Family page, you can download & print a coupon good for $2 off admission to Tellus Science Museum. The coupon is valid for up to four people, and it expires on March 31, 2017.
Admission is regularly $14 for adults, $12 for seniors (age 65+), & $10 for children (ages 3-17) and students with ID. Active military with ID are admitted free, and they also save 50% on admission for dependents. Planetarium shows are free for Leadership Level members, $2 for basic members, & $3.50 with paid museum admission.
Tellus Science Museum is located at 100 Tellus Drive, Cartersville.
–Jennifer Maciejewski