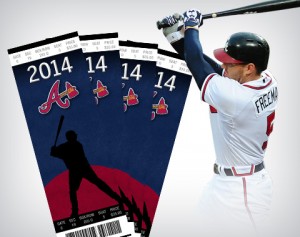 Watching the Braves play doesn't have to be expensive. Discount tickets and coupon codes are available for most Braves games, and fans have the option of bringing their own food & non-alcoholic beverages with them to Turner Field.
Fans of concerts & baseball get an even better deal: You'll be treated to a free post-game concert after select games: Kool & the Gang will perform on May 3 & Austin Mahone will perform on June 3, 2014. FYI–You can purchase cheap seats for the game & then move down for the concert.
And you can watch a fireworks display after select games during the 2014 season, including April 11 vs. Nationals, April 25 vs. Reds, May 2 vs. Giants, May 9 vs. Cubs, May 23 vs. Rockies, June 13 vs. Angels, July 4 vs. D-backs, July 18 vs. Phillies, July 25 vs. Padres, August 8 vs. Nationals, August 15 vs. Athletics, August 29 vs. Marlins, & September 19 vs. Mets.
Want to cheer on the Braves on the cheap? Though more deals will likely be announced closer to Opening Day, here's the current list of ticket deals for the 2014 season:
While they last, you can bid to save up to 60% on select tickets to Atlanta Braves games, thanks to a deal on Scorebig. Bonus: Through April 30, 2014, if it's your first order on Scorebig, you can use coupon code "BROADWAY20″ to save $20 on orders of $100+. As of today (April 2), Scorebig has tickets available for most Atlanta Braves games, including these in April 2014:

Tuesday, April 8-Thursday, April 10: vs. New York Mets
Friday, April 11-Sunday, April 13: vs. Washington Nationals
Monday, April 21-Wednesday, April 23: vs. Miami Marlins
Friday, April 25-Sunday, April 27: vs. Cincinnati Reds

Throughout the season, you'll often find discount tickets to select Braves games on Goldstar. As of today (April 2), Goldstar has tickets available for the following games:

April 8, 9, & 10 vs. The Mets
April 11, 12 & 13 vs. The Nationals

Active or retired military or first responders save 50% on Upper Box & Outfield tickets to select Braves home games.
Available 2.5 hours before every game, you can buy a limited number of $1 SkyLine seats at the Turner Field Ticket Office.
On Coca-Cola Two for $30 Tuesdays, you can buy two tickets in the Club Level Pavilion for $30.
You can save on tickets & get extras, like T-shirts, when you head out for certain themed game-day events, such as Mother-Son Day on July 5, Father-Daughter Day on August 16, & Grandparents' Day on September 1. And mark your calendars: Bark in the Park will take place on April 27 & August 31, 2014. There are promotions all season long, giving you plenty of ways to get more for your money.
$25 buys an Atlanta Braves Kids Club membership. You'll get a voucher for two Upper Box tickets to a Braves home game, Braves Kids Club gifts, a welcome letter from Freddie Freeman, VIP Access to Kids Run the Bases after Sunday home games, free admission to the Braves Hall of Fame, a voucher for two tickets to a Gwinnett Braves game, a Chick-fil-a sandwich coupon, discounts at the Braves Clubhouse Store at CNN Center, a Kids Club Membership ID card, & more.
A note on ticketing: Buy in advance to save a bit. Game-day tickets will cost you an additional $2 at the gate on Monday-Thursday & an extra $4 on Friday-Sunday. Prices aren't consistent across the board though–the same seat will cost you more or less depending on the opponent, game time & day of the week.
Planning to eat at Turner field? Try these deals:
Eat a lot? You may want an "All You Can Eat Seats" ticket. You can fill up on unlimited hamburgers, hotdogs, chicken tenders, cole slaw, baked beans, cookies, chips, Coca-Cola products, Dasani water, and draft beer. Food & drink will be provided from two hours before the game through the end of the 7th inning.
Braves season ticket holders receive 33% off food & non-alcoholic beverages at select Turner Field vendors.
A note on parking: You'll save a bit on parking if you buy your parking pass in advance. BUT the parking pass is nonrefundable, so if it rains & the game is cancelled, you're out of luck. It's generally best to buy in advance for games that will be busy or if you're arriving early to tailgate. Also, traffic is often heavy around Turner Field, so plan to head out early.
Turner Field is located at 755 Hank Aaron Dr, Atlanta. 800-326-4000
–Jennifer Maciejewski