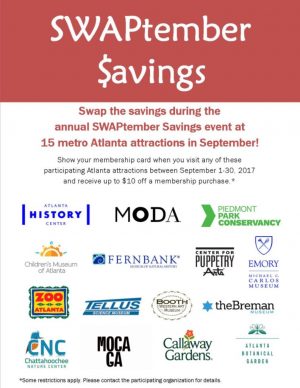 I have memberships to a few attractions in metro Atlanta. I love 'em, and they more than pay for themselves because we actually use them. And this month, they're worth even more.
September is Swaptember. During the month of September, if you're a member of a participating venue, you can use your membership card to save up to $10 when you purchase a membership or get discounted admission at another participating Atlanta-area attraction:
Atlanta Botanical Garden
Atlanta History Center & Margaret Mitchell House
Booth Western Art Museum
The Breman Museum
Callaway Gardens
Center for Puppetry Arts
Chattahoochee Nature Center
The Children's Museum of Atlanta
Fernbank Museum of Natural History
Michael C. Carlos Museum at Emory Univeristy
Museum of Contemporary Art Georgia (MOCA GA)
Museum of Design Atlanta (MODA)
Piedmont Park Conservancy
Tellus Science Museum
Zoo Atlanta
As always, each venue may have tiny-type restrictions, and you'll need to present a current membership card for one of the venues to save at the rest.
FYI–One of my memberships expires this month, and I plan to use the Swaptember deal when I renew. It may vary by venue, but I've never had an issue getting the Swaptember deal when I renew an existing membership at a participating venue during Swaptember & show a membership card for a different attraction.
–Jennifer Maciejewski