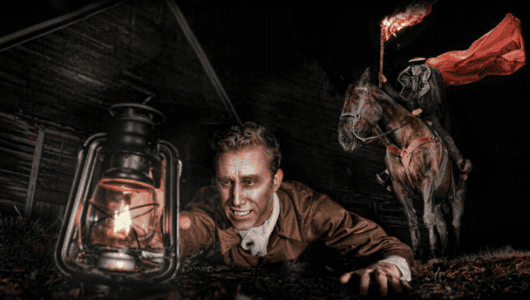 The Sleepy Hollow Experience returns to Serenbe Playhouse from September 29-November 6, 2016. This is on my short list of shows to see this fall, as it has all the makings of a fun Halloween tradition. Want to go? You can get discount tickets to The Sleepy Hollow Experience, no coupon code required.
Here's the quick summary: "The Headless Horseman rides tonight, and you might be his next victim in this interactive staging of the classic spooky tale Sleepy Hollow. In this year's The Sleeping Hollow Experience, a roving minstrel of storytellers lead you through the haunted grounds of Horseman's Meadow, telling the tale of bumbling schoolteacher Ichabod Crane, his love for beautiful Katrina and his rivalry with the brutish Brom Bones. But stay on yours toes because the Headless Horseman may come thundering by at any moment. Known for their innovative, site-specific productions, Serenbe Playhouse's riveting theatrical experience puts you in the middle of this spine-tingling yarn to experience the classic tale as you never have before."
Want to see The Sleepy Hollow Experience on the cheap? Tickets are regularly $25-$30, but while they last, you can take advantage of a pair of ways to save:
The Sleepy Hollow Experience will take place at The Horseman's Meadow at Serenbe, located at 9065 Selborne Lane, Chattahoochee Hills. The Sleepy Hollow Experience will be performed rain or shine.
–Jennifer Maciejewski