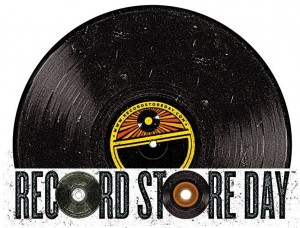 I know some people look forward to
Record Store Day
for the records, but I'm in it for the live music.
Record Store Day will take place on April 19, 2014. What is it? It's the one day each year that a massive list of titles are released only at record stores–some are exclusive releases, some are limited run/regional releases, and some are 'Record Store Day first' releases. It's hard to find an independent record store that doesn't participate in at least the record portion of Record Store Day, and many add in extras to celebrate, like Record Store Day promotional freebies, free in-store concerts, & free beer.
As usual, there's plenty happening in the ATL. To name a few:
Criminal Records (1154-A Euclid Ave NE, Atlanta): The live music lineup includes The Whigs at noon, 10th Letter at 1:00 p.m., Methuzulah at 2:00 p.m., Cloud Nothings at 3:00 p.m., Sadistic Ritual at 4:00 p.m., deadCAT on 5:00 p.m., King of Prussia at 6:00 p.m., Spirits and the Melchizedek Children at 7:00 p.m., & Mood Rings at 8:00 p.m.
Decatur CD (356 West Ponce de Leon Ave., Decatur). No live music this year, but there'll be a keg of SweetWater 420 Extra Pale Ale for your imbibing pleasure, courtesy of The Marlay. Bonus incentive to take advantage of the patio after you shop: Anyone who shows a Decatur CD Record Store Day receipt at The Marlay on Saturday will get 10% off their bill.
To find other Record Store Day events in metro Atlanta, browse the Record Store Day list of participating venues & then check the websites and Facebook pages of the local shops for details.
–Jennifer Maciejewski