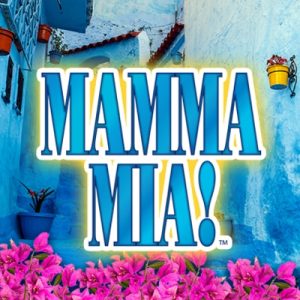 The Aurora Theatre's production of Mamma Mia! will be at The Ferst Center for the Arts in Atlanta from June 9-24, 2018. I've seen it before, and I plan to go again. You can sum up Mamma Mia! in one word: Hilarious. But here's what I really want to know: When did I get old enough to start identifying with the mom & her friends?
The quick summary: ABBA lives! The Swedish supergroup's music, a soundtrack for the 1970s and '80s, provides the framework for Mamma Mia!, the story of a mother, a daughter and three possible dads. On the eve of her wedding, Sophie's quest to discover her dad's identity brings three men from her mother's past back into her life for the first time in 20 years. And it all takes place on a Greek island. The score includes 'Take a Chance on Me,' 'Dancing Queen,' 'S.O.S.,' and a whole lot more."
Want to see it on the cheap? While they last, you can save almost 50% on tickets to select performances of Mamma Mia!, thanks to an offer on PoshDealz. As of today (April 13), discount tickets are available for select performances from June 9-24, 2018.
Tickets to Mamma Mia! start at $30. Discounts are available for students with ID.
Bonus: The Aurora Theatre has reserved one of the Ferst Center for the Arts's parking decks, so you'll get free parking when you head out for the show.
The Ferst Center for the Arts is located at 349 Ferst Drive NW, Atlanta.
–Jennifer Maciejewski