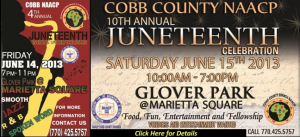 If you're looking for a Juneteenth Celebration in metro Atlanta, head to Marietta on June 14 & 15, 2013.
From 7:00 p.m.-11:00 p.m. on Friday, June 14, relax in Marietta Square's Glover Park for a free Juneteenth concert, featuring jazz and R&B music as well as spoken word performances.
Then head back to Marietta Square on Saturday, June 15, for the Juneteenth Celebration on the Square. From 10:00 a.m.-7:00 p.m., you can listen to live music, participate in family activities, shop at the street vendors, learn about Juneteenth, & more.
If you don't know what Juneteenth is, here's the short version of why it's a day of celebration mixed with reflection: Juneteenth (June 19, 1865) is considered the date that the last slaves in America were freed.
The Juneteenth Concert + Celebration on the Square will take place at Glover Park in Marietta.
–Jennifer Maciejewski