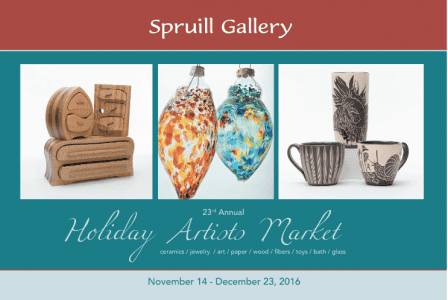 Last season, I shopped Spruill Gallery's
Holiday Artists Market
for the last few gifts on my list, and I found exactly what I needed–a cute pair of hand-crafted earrings, a Glak Love ornament, & a quirky set of drink markers. I'll be heading back soon, as I'm behind on this season's shopping.
The Holiday Artists Market features a diverse mix of gifts & decor, from ceramic & wood-carved wares to glassworks & jewelry, created by dozens of artists & makers. And it's not just a few items…it's about a half-dozen rooms filled with all things affordable & cute.
Procrastinators, you're in luck: If you shop on Friday, December 23, 2016, you'll save 20% on your entire purchase, thanks to the Last-Minute Shoppers Holiday Sale.
Spruill Gallery is located at 4681 Ashford Dunwoody Rd, Atlanta. The Holiday Artists Market is open from 10:00 a.m.-7:00 p.m. on Monday-Saturday & noon-5:00 p.m. on Sunday through December 23, 2016.
–Jennifer Maciejewski