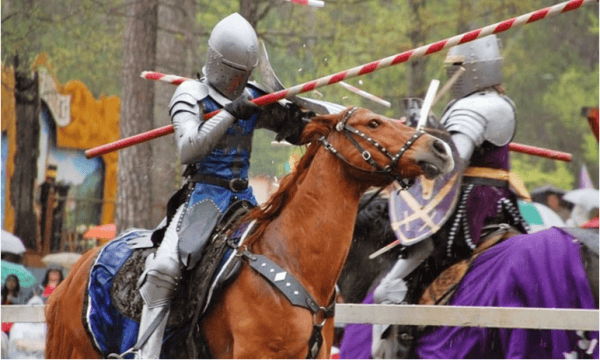 The Georgia Renaissance Festival runs through June 5, 2016. We go every year, and the girls & I always have a fabulous time.
There's quite a bit to do at the GA Ren Fest, my favorite being watching the shows. There'll be jousting, the Barely Balanced Acrobatic Show, Blades of Death, The Tortuga Twins, The Wheel of Death, Birds of Prey, Maypole dancing, photos with the King & Queen and the Fairy Queen, wandering minstrels, & the list goes on.
Even a few years ago was still fun, despite the fact that strong afternoon thunderstorms forced us to leave several hours early (we could have waited it out, but by then my youngest was over-tired & soaked, so it was a good time to go). Last year, we had perfect weather, and the shows didn't disappoint.
Planning to go? You have options to get discount tickets to explore the GA Ren Fest on the cheap, no coupon code required:
While they last, you can get tickets to the Georgia Renaissance Festival for $11 each + fees, thanks to a deal on Goldstar. The vouchers are valid for admission on May 14-15, May 21-22, or May 28-30, 2016.
May 28-30: Memorial Day Weekend. If you buy two tickets, you'll get one free; the deal is valid at the box office only.
June 4 & 5. Last Huzzah Weekend. No promises, but they may release a discount closer to the date.
When you order in advance, tickets to the Georgia Renaissance Festival are $19 for adults & $8 for children (ages 6-12); tickets are $22 & $10, respectively, at the gate. Or you can opt for a Royal Value Combo Pack for $114.95 (regularly $175). The deal includes four adult tickets, four soft drinks & entrées, four games/rides coupons, four souvenir coupons (each good for 10% off one souvenir purchase), and four adult costume rental coupons (each worth $10 off any individual adult costume rental).
The Georgia Renaissance Festival is located at 6905 Virlyn B. Smith Rd., Fairburn. Parking is free.
–Jennifer Maciejewski