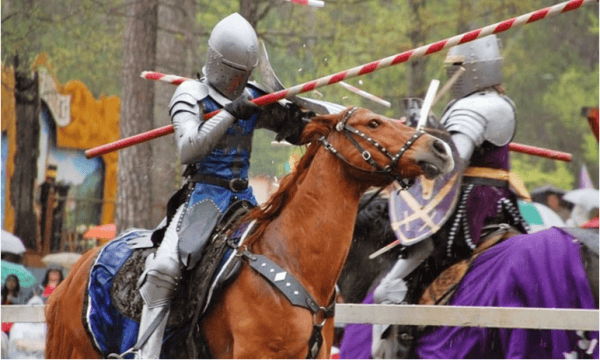 The Georgia Renaissance Festival returns to Atlanta from April 14-June 3, 2018. We go every year, and the girls & I always have a fabulous time.
There's quite a bit to do at the GA Ren Fest, my favorite being watching the shows. Though they haven't announced the lineup for 2018 yet, we typically make time to see some of our long-running favorites, like the Barely Balanced Acrobatic Show, The Tortuga Twins, & Hey Nunnie Nunnie, plus there'll be jousting, Maypole dancing, photos with the King & Queen and the Fairy Queen, wandering minstrels, & the list goes on.
Most recently, we had perfect weather, and the shows didn't disappoint. Even a few years ago was still fun, despite the fact that strong afternoon thunderstorms forced us to leave several hours early (we could have waited it out, but by then my youngest was over-tired & soaked, so it was a good time to go).
Planning to go? You have options to get discount tickets to explore the GA Ren Fest on the cheap, no coupon code required:
FYI–Other ticket deals will likely be released closer to the date.
The Georgia Renaissance Festival is located at 6905 Virlyn B. Smith Rd., Fairburn. Parking is free.
–Jennifer Maciejewski