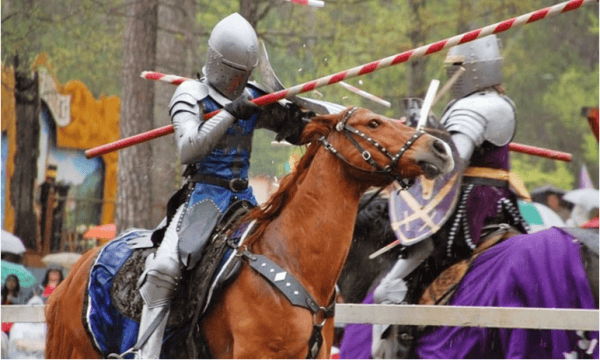 The Georgia Renaissance Festival is only in town through June 4, 2017, so if you're planning to head out, quit procrastinating. We go every year, and the girls & I always have a fabulous time.
There's quite a bit to do at the GA Ren Fest, my favorite being watching the shows. There'll be jousting, the Barely Balanced Acrobatic Show, The Tortuga Twins, Hey Nunnie Nunnie, the Geoff Marsh Fire Circus, Maypole dancing, photos with the King & Queen and the Fairy Queen, wandering minstrels, & the list goes on.
Even a few years ago was still fun, despite the fact that strong afternoon thunderstorms forced us to leave several hours early (we could have waited it out, but by then my youngest was over-tired & soaked, so it was a good time to go). This year, we had perfect weather, and the shows didn't disappoint.
Planning to go? You have options to get discount tickets to explore the GA Ren Fest on the cheap, no coupon code required:
The Georgia Renaissance Festival is located at 6905 Virlyn B. Smith Rd., Fairburn. Parking is free.
–Jennifer Maciejewski