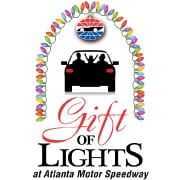 From November 18, 2012-January 6, 2013, Gift of Lights will take place at the Atlanta Motor Speedway.
Per the description: "With more than a million LED lights illuminating hundreds of festive holiday displays, participants will have the opportunity to see the AMS in a whole new light. Traveling in and around the grandstands and through a brilliantly lit tunnel, riders will travel through a mile and a half of sparkling holiday splendor and be able to experience areas of the speedway not accessible on race days."
While you're there, tune to the Speedway's 90.3 FM radio signal to listen to Christmas music + messages from NASCAR drivers.
Bonus: On Friday-Sunday, December 7-9, 14-16, and 21-23, you can shop the Speedway gift shop or get a free photo with Santa.
Admission is $15/car on Monday-Thursday, and $20/car on Friday-Sunday + holidays. Want to head out on the cheap? Stop by metro-Atlanta Walgreens locations to get discount tickets. With the deal, you can get $12 admission on Monday-Thursday & $15 admission on Friday-Sunday.
The first 15,000 vehicles will receive gift bags with coupons and savings offers. The Atlanta Motor Speedway is located in Hampton, GA.
–Jennifer Maciejewski