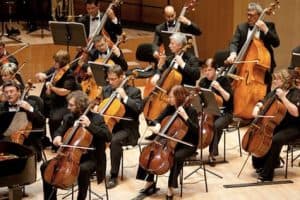 If you've been meaning to see the Atlanta Symphony perform but haven't made it out to a concert yet, quit stalling: You have a few ways to get discount tickets to several Atlanta Symphony concerts, no coupon code required:
On the first Friday of the month, you can skip the gridlock & get a culture fix on the cheap, thank to a deal on nCrowd. While they last, $15 buys your ticket to the First Friday concert with the Atlanta Symphony on November 1, 2013 (regularly $25). Doors & bar open at 5:00 p.m., & the music starts at 6:30 p.m.
You can save more than 50% on tickets to four Atlanta Symphony concerts, thanks to a deal on Goldstar. The ticket package includes A Night of Double Debuts on November 21 or 23, 2013; Fire Angels World Premiere on March 20 or 21, 2014; Et Lux Perpetua Luceat Eis on April 24 or 26, 2013; and Voice of the People on May 22 or 24, 2014.
Atlanta Symphony Hall is located at the Woodruff Arts Center, 1280 Peachtree St. NE, Atlanta.
–Jennifer Maciejewski