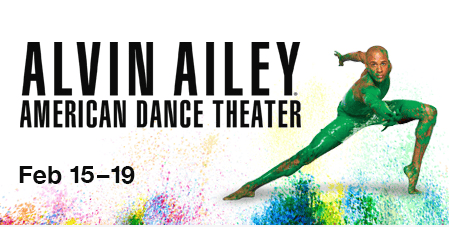 I've seen Alvin Ailey American Dance Theater at the Fox several times now, and it's on my short list of can't-miss shows. It's one of the most impressive productions I've ever seen–the athleticism, the art, all of it…it's beautifully done. The tour returns to Atlanta February 15-19, 2017, and it'll be a new experience even if you've seen Alvin Ailey American Dance Theater perform before.
Want to see it on the cheap? Take advantage of one of these discounts:
The 8:00 p.m. performance on Wednesday, February 15, is Ailey Fan Night; all seats are $25 or $39 each, no coupon code required.
Students get the best deal: With a valid ID, students with ID can buy up to two tickets for $10 each to the 8:00 p.m. performance on Thursday, February 16. Tickets must be purchased at the Fox Theatre box office. Since it's not a rush ticket, you can take advantage of the student rate now, but you must by your tickets in advance to get the deal
If you attend the family matinee on Saturday, February 18, at 2:00 p.m., you can buy one ticket and get one at 50% off.
The Fox Theatre is located at 660 Peachtree St. NE, Atlanta.
–Jennifer Maciejewski