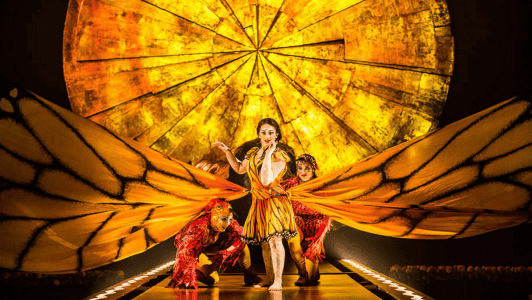 Cirque du Soleil's Luzia: A Waking Dream of Mexico will be at the Grand Chapiteau at Atlantic Station from September 14-November 19, 2017.
Cirque du Soleil's productions never cease to amaze me–the gorgeous costuming and choreography make each show feel like a work of art, and I remain in awe of the complex circus arts the performers manage to pull off night after night. I'm looking forward to seeing the dreamworld they create for Luzia. Per the summary: "Step right up into the Grand Chapiteau at United Center and discover the surreal world of Luzia, where an imaginary Mexico springs to life to the soundtrack of brassy Mexican and Latin American sounds. Inspired by the cultural richness of Mexico, Cirque du Soleil's new big-top show Luzia features original music written for a live acoustic setting mixed with the electro-pop of Nortec Collective's Bostich + Fussible. Catch Luzia–a combination of the Spanish words luz (light) and lluvia (rain), two elements at the heart of the show–on the Atlanta stop of its world tour."
Want to see Cirque du Soleil's Luzia on the cheap? You've got a few ways to save:
For most performances of Cirque du Soleil's Luzia, you can take advantage of discounts for children (ages 2-12), students with ID (age 13+), seniors (age 65+), & members of the military.
While they last, you can get discount tickets to most performances of Cirque du Soleil's Luzia, thanks to a deal on Goldstar. As of today (August 4), Goldstar has tickets for most performances during the run. I'm hoping for a bigger discount closer to the date, but for now, it looks like they're about the same price as the student, senior, and military discount tickets for the various price levels, making it a good option if you'd otherwise be paying full price to go.
With the Family Pack deal, you'll save up to 20% on tickets to select performances of Luzia. To get the deal, you'll need to purchase a minimum of three tickets (maximum of eight), and each order music include at lease one adult and one child ticket (age 2-12).
The Grand Chapiteau at Atlantic Station is located at 171 17th Street NW, Atlanta
–Jennifer Maciejewski