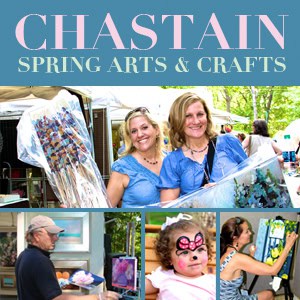 On May 6 & 7, 2017, the
Chastain Park Arts Festival
will take place at Chastain Park, near the Chastain Park amphitheater, the horse barn and golf course.
In addition to showcasing the works of about 185 artists (painters, photographers, sculptors, leather and metal craftpersons, glass blowers, jewelers and more), there'll be food trucks, a children's area, live acoustic music & more.
Heading out for the music? Here's the lineup:
Saturday, May 6
Noon: TBA
1:00 p.m.: Amy Rae
2:00 p.m. Rachel Wiggins
3:00 p.m. Ella Collier
4:00 p.m.: Hill "Catfish" Roberts
Sunday, May 7
11:00 a.m.: TBA
Noon: Blue Roads
1:00 p.m. Zakiya Harmony
2:00 p.m. Francesco Maceri
3:00 p.m.: TBA
4:00 p.m.: TBA
If you plan to use a GPS to get you to Chastain Park, the best address to use is 4469 Stella Drive, Atlanta.
Can't make it? The Chastain Park Arts Festival will return to Chastain Park for a fall festival on November 4 & 5, 2017.
–Jennifer Maciejewski