[exp] [/exp]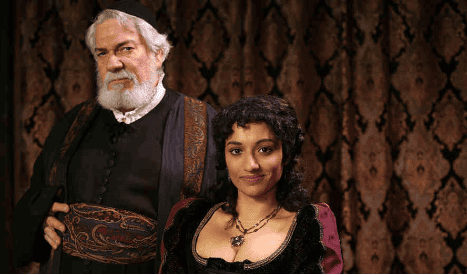 The Merchant of Venice will be at the Shakespeare Tavern from June 3-19, 2016.
If you didn't read the play in high school, here's the quick summary: "When gold is flowing, all is well–but when a contract is broken, simmering racial tensions boil over. The Merchant of Venice offers up one of Shakespeare's most controversial figures, the vengeance-seeking moneylender Shylock, as well as the clever and well-spoken Portia–whose intelligence shines every bit as brightly as her beauty–and who's long been considered one of the Bard's most fully developed and complex heroines. This classic tragic comedy showcases the tenacity of young love and calls into question the prejudices and beliefs of Renaissance-era Venice, offering ethical and philosophical musings that resonate with audiences to this day."
If you haven't been to Shakespeare Tavern before, a tip: It's an intimate venue, so you really can't go wrong with any seats–I've tried all three price levels (Main Floor, Box Seats, Balcony), & I've had a good view of the production from each vantage point. The food is quite good, too–the apple crisp served during intermission is worth every calorie. Yum.
Want to go? You've got a few ways to save on tickets:
While they last, you can get discount tickets to most performances of The Merchant of Venice, thanks to a deal on Goldstar.
For regular-priced tickets, you'll get the best deals on Thursdays & Sundays, plus students & educators save $5 on adult tickets (excluding Saturday nights), and seniors (age 65+) & military with ID save $3 off the adult ticket price for most performances. If you can make it, you can snag $15 general admission tickets to the preview performance on June 2, 2016.
FYI re: parking: Unless it's a Sunday or another exempt time, they're enforcing the meters in front of the theatre, so make sure to pay if you use them. Or you can park in the Emory parking deck across the street. If you give them your ticket stub when you leave, parking should be $5.
Shakespeare Tavern is located at 499 Peachtree St. NE, Atlanta.
–Jennifer Maciejewski