[exp] [/exp]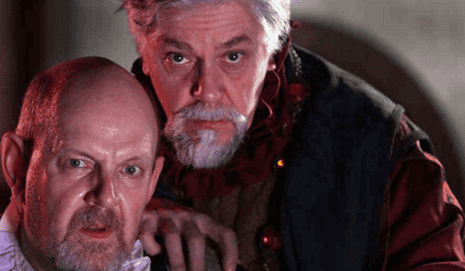 Equivocation will be at the Shakespeare Tavern through May 8, 2016. I've never seen it, but based on the description, I want to go. It looks like it'll be a fun night at the theatre.
Per the summary: "Set in 1605 London, a down-and-out playwright named Shagspeare–yeah, you know who we're talking about–receives a commission to write a play promoting the government's version of Guy Fawkes' treasonous plot. As Shag navigates the murky waters between writing a lie or losing his head, his devoted troupe keeps him afloat. Bill Cain's witty and thought-provoking exploration of governmental power and artistic integrity also manages to mix broad humor and tense political intrigue into an award-winning crowd-pleaser. You'll have fun catching all the clever allusions to The Bard in this smart, contemporary new look at the world's greatest playwright when Equivocation comes to Atlanta's Shakespeare Tavern Playhouse."
If you haven't been to Shakespeare Tavern before, a tip: It's an intimate venue, so you really can't go wrong with any seats–I've tried all three price levels (Main Floor, Box Seats, Balcony), & I've had a good view of the production from each vantage point. The food is quite good, too–the apple crisp served during intermission is worth every calorie. Yum.
Want to go? You've got a few ways to save on tickets:
FYI re: parking: Unless it's a Sunday or another exempt time, they're enforcing the meters in front of the theatre, so make sure to pay if you use them. Or you can park in the Emory parking deck across the street. If you give them your ticket stub when you leave, parking should be $5.
Shakespeare Tavern is located at 499 Peachtree St. NE, Atlanta.
–Jennifer Maciejewski