[exp] [/exp]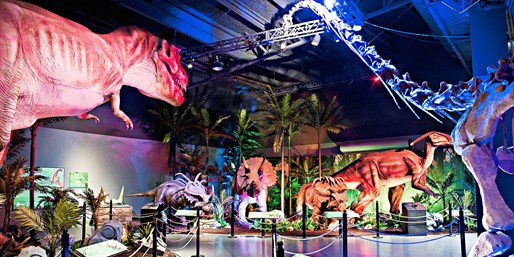 If you're looking for discount tickets to see Extreme Dinosaurs or Bodies: The Exhibition at Atlantic Station, you're in luck–you have a few ways to save on admission, no coupon code required.
Extreme Dinosaurs looks like a fun exhibition for the dinosaur fans in your family. Per the summary: "Extreme Dinosaurs, making its US debut in Atlanta, will provide visitors the opportunity to discover the roar and might of the Mesozoic Era like never before! This educational and entertaining exhibition suited for the whole family, gathers the world's strangest dinosaurs in an experience that showcases both lifelike and life-size animatronic dinosaurs alongside full-scale skeletons and real and replica fossils. The exhibition features some of the newest, bizarre dinosaur finds from the current 'Golden Age' of paleontology, capturing the human fascination with dinosaurs at an exciting moment in dinosaur history."
Plus, there'll be interactive activities including a children's dig site for paleontologists in the making, Make Me Move consoles that allow guests to initiate movement of the animatronics, & hands-on learning with touch panels and a Dinosaur Detective quiz.
And Bodies: The Exhibition is also on display at Atlantic Station. Bodies features 200 actual human bodies and organ specimens, each of which has been preserved, dissected, and displayed to give you an closer look at the systems of your body: Skeletal, Muscular, Nervous, Respiratory, Digestive, Urinary, Reproductive, Circulatory and the Treated Body.
Want to check them out on the cheap? You've got a few options:
If you miss out on a deal, tickets to Extreme Dinosaurs are regularly $18 for adults, $13 for children (ages 3-11), and $16 for seniors (age 65+). Tickets to Bodies: The Exhibition are regularly $24 for adults, $16 for children (ages 3-11), and $22 for seniors (age 65+). Bonus: You'll skip the service fee when you buys tickets online. And Extreme Dinosaurs & Bodies: The Exhibition combo tickets are available for $32 for adults, $22 for children (ages 3-11), and $28 for seniors (age 65+).
Premier Exhibition Center at Atlantic Station is located at 265 18th Street, Level 2, near Escalator 5.
–Jennifer Maciejewski