[exp] [/exp]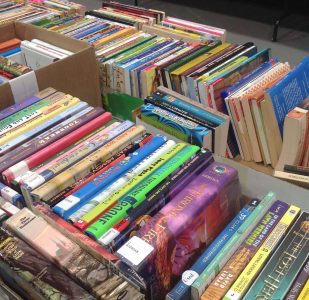 From April 13-15, 2018, the Cobb County Library Book Sale will take place at the Cobb Civic Center in Marietta.
If you've never shopped the sale, it's a good deal: Prices range from 10 cents to $4.00 per item, and they have everything from hardback & paperback books to DVDs & more. FYI–It's cash or check only, so come prepared.
You can shop till 5:00 p.m. on Friday, 9:00 a.m.-5:00 p.m. on Saturday, and 1:00 p.m.-5:00 p.m. on Sunday.
On Sunday, you'll get the best deal–it's BYOB (Bring Your Own Box) Day. You can bring any size box & fill it to the top for one flat fee. Items on the Mezzanine level are $10 per box & those on the lower level are $20 per box. Or you can mix & match for a $20 flat fee. The boxes don't have to be actual boxes…you can bring a suitcase, stroller, reusable grocery bag, or other random containers to stuff with new-to-you books & DVDs.
The Cobb Civic Center is located at 548 South Marietta Pkwy SE, Marietta. Parking is free.
–Jennifer Maciejewski