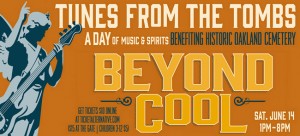 I love this concept–a touch of the macabre + live music = awesome.
On Saturday, June 14, 2014, Tunes from the Tombs returns to Oakland Cemetery. It's not free to attend the music festival, but it's fairly cheap to get in–tickets are $10 in advance or $15 at the gate for adults, and kids' tickets (ages 3-12) are $5 each.
During Tunes from the Tombs, musicians will perform amongst the monuments, mausoleums, & gardens at Oakland Cemetery. Here's the lineup:
MailChimp Stage at Lion Square, featuring Shawn Mullins!
1:15 p.m.: Myles Brown
2:30 p.m.: SG4
3:30 p.m.: Secondhand Swagger
4:30 p.m.: Tribute: A Celebration of the Allman Brothers
5:30 p.m.: Mudcat
6:45 p.m.: Shawn Mullins
Creative Loafing North Public Grounds Stage
1:00 p.m.: Danny Brewer (from Besides Daniel)
2:00 p.m.: Julea and her Dear Johns
3:00 p.m.: Villain Family
4:00 p.m.: Smooth Hound Smith
5:00 p.m.: Blacktop Rockets
6:00 p.m.: Ghost Riders Car Club
7:00 p.m.: Derik Hultquist
Woodchuck Cider Garden by the Bell Tower
1:00 p.m-8:00 p.m.: DJ Phiasco 2.0 spinning vinyl
Plus, there'll be pop-up performances by Pop-Up Wasted Potential Brass Band, Sweet Auburn String Band, Uncle Daddy and the Kissin' Cousins, Atlanta Sacred Harp Singers, Alex Commins & Todd Prusin, Jake Reeves, Katharine Cole, & more.
While you're there, you can take a free guided mini-tour of Oakland Cemetery, have you fortune read by Esmere, indulge with food truck fare, & more.
Oakland Cemetery is located at 248 Oakland Avenue, Atlanta. Some free parking may be available on the streets. If you don't have any luck, it's $5 to park at the Grady Health Systems lot behind the MLK MARTA Station on Grant Street. And the Atlanta Bicycle Coalition will provide bike parking.
–Jennifer Maciejewski