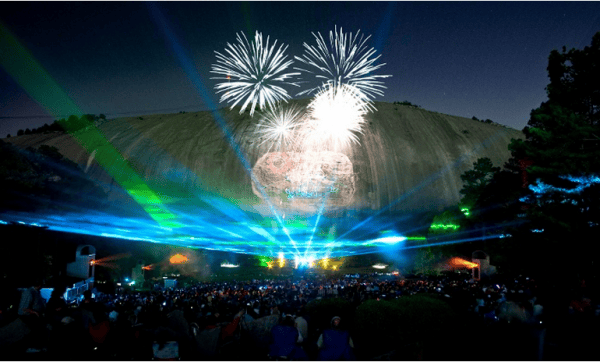 If you are looking for discount tickets to Stone Mountain Park, you're in luck: You have a few ways to play on the cheap, no coupon code required.
We'll be heading back to Stone Mountain Park soon. The kids love Geyser Tower, and now that they're older, they're looking forward to conquering the Sky Hike (an adventure course). Plus, they want to check out Rio: The 4-D Experience, take in the view from the Summit Skyride, watch the laser light show, & more.
Want to check it out on the cheap? You've got a few ways to save:
1) As always, if you're planning to go more than once (and there's so much to do, you'll probably need to), buy the Mountain Membership, a.k.a. the season pass. In addition to unlimited admission, Mountain Members save on tickets to Snow Mountain & Ride the ducks, get an extra discount on a parking pass, & more. Even better: The Mountain Members PLUS pass includes tickets to Snow Mountain & Ride the Ducks, annual parking, & other perks. If you're renewing your membership, wait until you get to the park to do it, as you'll save a bit.
2) While they last, $21 buys one pass to Christmas at Stone Mountain OR $82 buys four, each good for one pass to Christmas at Stone Mountain, thanks to a deal on Groupon.
3) Or while they last, $34.95 buys one combo pass to Snow Mountain and Christmas at Stone Mountain, thanks to a deal on Groupon.
4) For a limited time, you can take advantage of an Adventure Pass Meal Deal & get a free meal & unlimited drink refills with the purchase of an Adventure Pass. The deal is available online only, and it's $29.95 for adults & $24.95 for children ages 3-11.
5) Members of the military with ID can purchase an Adventure Pass for $21.95 + tax at the gate. The deal is valid for active or retired military, disabled veterans, and military reservists, spouses and dependents when valid military personnel IDs and dependent IDs are presented.
6) Mountain Members & Mountain Member PLUS passholders can download & print a coupon to Bring a Friend free on select dates. There's a limit of one complimentary Adventure Pass per Mountain Member per visit, and you'll need to bring the coupon to the Crossroads Ticket Plaza & along with your pass to get the deal. Upcoming Bring a Friend dates include June 13 & 14, September 26 & 27, and November 7 & 8, 2015.
7) Thanks to an offer from Gas South, you can save up to 25% on an Adventure Pass, Mountain Member pass, or Mountain Member Plus pass to Stone Mountain Park.
A note about parking: If you walk or ride a bike to Stone Mountain Park, there's no parking fee. Otherwise, it's $15. If you must drive & aren't opting to buy a Mountain Member or Mountain Member PLUS pass, spring for the $40 annual permit if you plan to visit multiple times to take advantage of free special events or the park's free outdoor activities and laser show.
Stone Mountain Park is located at 1000 Robert E. Lee Dr., Stone Mountain. Technically, the main entrance is located at U.S. Highway 78 East, Exit 8, Stone Mountain, but online mapping programs often don't like the address.
–Jennifer Maciejewski