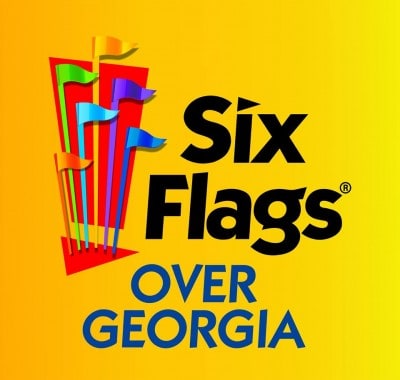 If you're looking for ways to save at Six Flags Over Georgia & White Water, you're in luck. Now's one of the best times to get in on the cheap.
It's Fright Fest time at Six Flags Over Georgia, which is always a fun night out. Though the haunted mazes cost extra, my girls get adequate frights from the wandering monsters & basically spend their evening running from one "safe" ride line to another to stay out of reach of whatever zombie or clown or scarecrow happens to be nearby. While you're there, be sure to check out the Rage of the Gargoyles Virtual Reality Coaster at Dare Devil Dive–guests must be age 13+ to experience the virtual reality version of the ride.
If you have little ones, you'll want to visit the revamped Bugs Bunny Boomtown at Six Flags Over Georgia, which now includes the first-ever DC Super Friends kids area, which offers five new pint-sized experiences themed after popular Super Heroes and villains.
If we can sneak it in this weekend, the kids & I have plans to compete on Wahoo Racer, the new six-tube, aerodynamic, water toboggan racing slide complex at White Water. The park closes for the season on October 2, 2016, so now's the time if you want to go.
Our 2016 Six Flags Over Georgia & White Water combo passes are still valid, but if don't already have a pass or want to renew while the prices are low, your 2017 pass will get you in for the rest of 2016, too.
Want to go to one or both on the cheap? You've got options:
The deals:
FYI: Need an extra reason to head back in 2017? Six Flags Over Georgia has a new ride coming next season: Justice League: Battle for Metropolis. On the 4D interactive ride, you'll be armed with a stun blaster and real-time gaming elements while traveling on a rotating vehicle through Metropolis.
–Jennifer Maciejewski