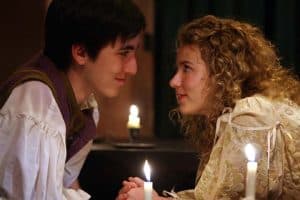 Romeo & Juliet will be at The New American Shakespeare Tavern from January 31-March 3, 2013.
I'll be taking my girls to this–They've been asking to go back to The Shakespeare Tavern since they saw A Christmas Carol last month, and Romeo & Juliet is one of Shakespeare's easier-to-understand plays.
If you haven't been to Shakespeare Tavern before, a tip: It's an intimate venue, so you really can't go wrong with any seats. Most recently, I sat in the top row of the balcony for A Christmas Carol, and it was an excellent view. The food is quite good, too–the apple crisp served during intermission was worth every calorie. Yum.
Want to go? You've got a few ways to save on tickets:
Thursday, January 31, and Friday, February 1, are general-admission preview nights, and all tickets to Romeo & Juliet are $15 each. If you're picky about where you sit, get there early, as it's first-come, first-seated.
Keep an eye on AtlanTIX for discount tickets, too. They're not there yet, but they often offer discount tickets to Shakespeare Tavern productions; you'll get the best deals preview night + on Thursdays & Sundays during the run.
And while they last, you can snag a $50 gift card to The Shakespeare Tavern for $25, thanks to a deal on PoshDealz.
FYI re: parking: They're enforcing the meters in front of the theatre, so your best bet is to park in the Emory parking deck across the street. If you give them your ticket stub when you leave, parking should be $5.
The New American Shakespeare Tavern is located at 499 Peachtree St. NE, Atlanta. 404-879-5299.
–Jennifer Maciejewski