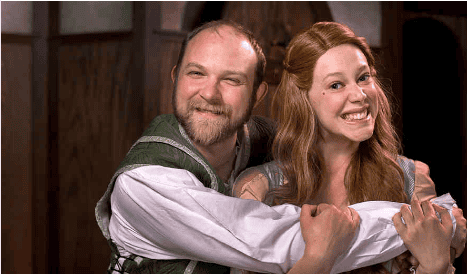 The Taming of the Shrew will be at the Shakespeare Tavern from June 24-July 10, 2016.
If you didn't read the play in high school, here's the quick summary: "Shakespeare's The Taming of the Shrew finds love in a hopeless place when one of the most unlikely romantic couples in all of literature–Katherine and Petruchio–meet and proceed down the rocky path toward marriage. The hilarity begins when wealthy Italian merchant Baptista Minola decrees that the younger of his two daughters cannot be wed before her strong-willed, less popular and less beautiful sister is married. The problem is that no man in Padua is willing to marry ill-tempered Katherine. That is, until the fortune-hunting Petruchio, newly arrived from Verona, agrees to woo and wed Katherine (for a sizable dowry, of course). What follows is a 'battle of the sexes' story that set the standard for nearly all to follow."
If you haven't been to Shakespeare Tavern before, a tip: It's an intimate venue, so you really can't go wrong with any seats–I've tried all three price levels (Main Floor, Box Seats, Balcony), & I've had a good view of the production from each vantage point. The food is quite good, too–the apple crisp served during intermission is worth every calorie. Yum.
Want to go? You've got a few ways to save on tickets:
While they last, you can get discount tickets to most performances of The Taming of the Shrew, thanks to a deal on Goldstar.
For regular-priced tickets, you'll get the best deals on Thursdays & Sundays, plus students & educators save $5 on adult tickets (excluding Saturday nights), and seniors (age 65+) & military with ID save $3 off the adult ticket price for most performances. If you can make it, you can snag $15 general admission tickets to the preview performance on June 23, 2016.
FYI re: parking: Unless it's a Sunday or another exempt time, they're enforcing the meters in front of the theatre, so make sure to pay if you use them. Or you can park in the Emory parking deck across the street. If you give them your ticket stub when you leave, parking should be $5.
Shakespeare Tavern is located at 499 Peachtree St. NE, Atlanta.
–Jennifer Maciejewski