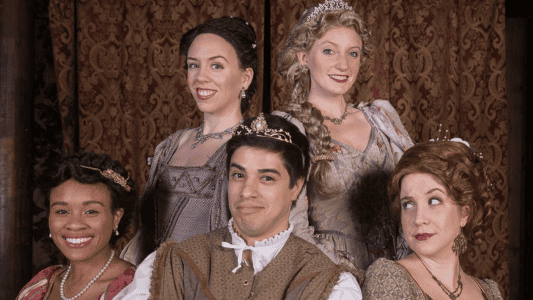 Love's Labours Lost will be at the Shakespeare Tavern from March 31-April 22, 2018.
If you've not familiar with the play, here's the quick summary: "Can four young men manage to honor their pledge to avoid the opposite sex, food, drink and sleep for the sake of becoming more intellectual and contemplative? Not in Shakespeare's world, and certainly not in this Atlanta Shakespeare Company production of Love's Labours Lost at the Shakespeare Tavern Playhouse. After four young women arrive on the scene, the result is far from a blissful pondering of noble deeds and nobler thoughts. Enjoy all the muscovites, masks and lessons about love in this lyrical comedy."
If you haven't been to Shakespeare Tavern before, a tip: It's an intimate venue, so you really can't go wrong with any seats–I've tried all three price levels (Main Floor, Box Seats, Balcony), & I've had a good view of the production from each vantage point. The food is quite good, too–the apple crisp served during intermission is worth every calorie. Yum.
Want to go? You've got a few ways to save on tickets:
While they last, you can get discount tickets to select performances of Love's Labours Lost, thanks to a deal on Goldstar. As of today (March 22), discount tickets are available for select performances from March 31-April 22, 2018.
For regular-priced tickets, you'll get the best deal on Thursdays, plus students & educators save $5 on adult tickets (excluding Saturday nights), and seniors (age 65+) & military with ID save $3 off the adult ticket price for most performances. If you can make it, you can snag $15 general admission tickets to the preview performances on March 29 or $20 general admission tickets to the preview performance on March 30, 2018.
FYI re: parking: Unless it's a Sunday or another exempt time, they're enforcing the meters in front of the theatre, so make sure to pay if you use them. Or you can park in the Emory parking deck across the street. If you give them your ticket stub when you leave, parking should be $5.
Shakespeare Tavern is located at 499 Peachtree St. NE, Atlanta.
–Jennifer Maciejewski