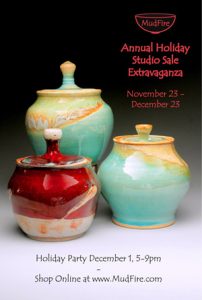 It's that time of year again:
MudFire's Holiday Studio Show will take place from November 23-December 23, 2012. And there's a Holiday Party & artists' reception from 5:00 p.m.-9:00 p.m. on Saturday, December 1.
The show & sale features the functional & decorative ceramic works of 100+ local and regional artists. You can shop for some of the works online, but it's worth browsing in person for the widest selection.
MudFire Gallery is located at 175 Laredo Dr, Decatur. Holiday sale gallery hours: noon-8:00 p.m. daily; closed Tuesdays. 404-377-8033
–Jennifer Maciejewski