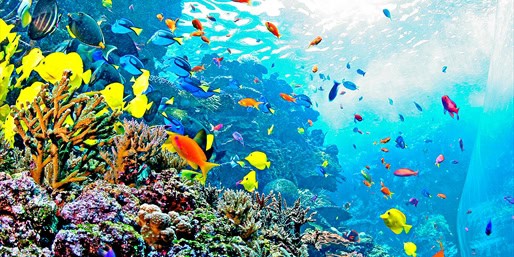 If you're looking for discount tickets to the Georgia Aquarium, you're in luck. You've got a few ways to get in free or on the cheap, no coupon code required:
And don't miss out on these events:
Through September 25, 2016, you can check out the Washed Ashore: Art to Save the Sea exhibition, which is free with admission. The exhibition features 13 sculptures of ocean life that were constructed out of marine debris. You'll find the sculptures in the outdoor plaza, outside The 4D Funbelievable Theater, and in the Tropical Diver gallery.
Sips Under the Sea returns with a Masquerade theme on Friday, October 21, 2016. General admission tickets are $19.95+tax for members & $28.95+tax for nonmembers, and VIP admission is $24.95+tax for members & $48.95+tax for nonmembers. Sips Under the Sea is a 21+ event. Doors open at 6:00 p.m. for VIP admission & 7:00 p.m. for general admission. Can't make it? December's Sips Under the Sea will take place on December 9, and it will have a Jingle Mingle theme. You must purchase tickets in advance to attend.
The Georgia Aquarium is located at 225 Baker St. NW, Atlanta.
–Jennifer Maciejewski