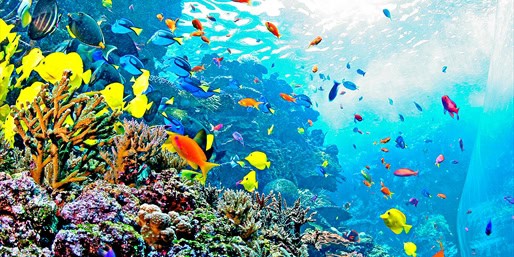 If you're looking for discount tickets to the Georgia Aquarium, you're in luck. You've got a few ways to get in free or on the cheap, no coupon code required.
The deals:
And don't miss out on these events:
The Sips Under the Sea: Cupid's Crush party is happening on Friday, February 9, 2018. General admission tickets are $19.95+tax for members & $28.95+tax for nonmembers, and VIP admission is $24.95+tax for members & $48.95+tax for nonmembers. Sips Under the Sea is a 21+ event. Doors open at 6:00 p.m. for VIP admission & 7:00 p.m. for general admission. You must purchase tickets in advance to attend; tickets are not available at the door. Upcoming Sips Under the Sea events include Prom Night on May 11, Tailgate Party on August 24, & Monster Mash on October 26.
From 11:30 a.m.-2:30 p.m. on Saturday, April 21, 2018, the Georgia Aquarium will host an Earth Day Superhero Day, featuring recycling & compost prize wheel, pot decorating craft, The Home Depot kids workshop, a photo station and Superhero Academy. Bonus: From 9:00 a.m.-4:00 p.m., kids age 12 & under who come dressed in costume will be admitted free; limit one free admission per paid adult.
5:00 p.m.-9:00 p.m. on Saturday, May 26, 2018, is MomoCon Night at the Georgia Aquarium; costumes encouraged.
The Georgia Aquarium is located at 225 Baker St. NW, Atlanta.
–Jennifer Maciejewski